TYPHOON TEXAS RIDING THE RAD NEW WAVE IN STORAGE LOCKERS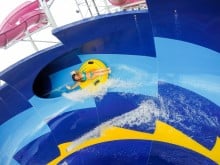 Turns out, waterpark visitors get just as stoked about easily and securely storing their stuff, as they do catching air on a seven-story AquaDrop.
Who knew?
VLocker. They manufacture and install the state-of-the-art electronic locker systems that are making a big splash in the waterpark industry.
Not only are VLocker systems made of the most rugged and durable materials, (like galvanized or stainless steel – Hiya!), but each locker is accessible from any terminal within sight. Meaning park-goers don't have to wait in long lines at one measly counter to purchase a locker, wasting precious time they could be spending yanking up their shorts after being launched head-first from a tube slide.
What's more, the simple-to-navigate application using the high quality touchscreens make transactions a snap. And, bonus, VLockers can be configured to accept credit cards, bar codes, even RFID or NFC! That's right. No more soggy singles stuck in your swimsuit, or keys digging into your derriere – unless you prefer traditional payment methods. VLocker can make those work too.
So, besides grateful, happy customers, what's in it for park owners? Where do we begin? How about, "Show me the money!" Typhoon Texas General Manager Evan Barnett reported that VLocker has been an easy form of recurring revenue, "Just a couple months into our season, we have already found we are renting the same door three or four times a day."
Fist bump.
And since VLocker systems are so intuitive and efficient, park employees don't really have to manage them. Which is another reason Barnett is so excited about this brand of electronic storage, "With such a short window in our season to generate revenue, the fact that our staff can put their energy into the park and the people is key for us at Typhoon Texas."
Barnett also lauded VLocker for their ability to customize their systems to meet his park's unique needs, their dedicated follow-up and support, which, for him, translated to "little or no down time", and the automated sales reports from the previous day's activity that grace his in-box every morning, reminding Barnett why he would choose VLocker all over again, "This has been a first-class experience. We looked at every supplier out there and VLocker is the best in the industry."
And to that, we say, "giddy up"

VLocker is a provider of electronic locker systems operating in major water park installations around the world. VLocker water park lockers allow keyless access in cashless parks using RFID or Barcode wrist bands. The rental and re-entry process is fast and very easy to use. Vlocker can provide waterproof wrist bands or integrate to existing ticketing systems.
Pay point kiosks can also be configured to accept other payments methods such as notes and credit card for customers who do not have RFID or Barcode wrist band.
VLocker North America LLC
Office/Direct: 469-585-6683
steven@vlocker.com
www.vlocker.com
---

| Home | Vending Technology News | More News | Vending Newsletter sign up | Questions? Contact us | email press release | See more: Software Companies |