Tubz Brands and Candy Crush creators launch brand new 'Twin Tub' vending concept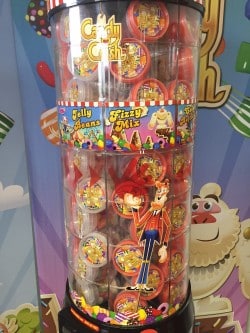 UK vending tower franchise Tubz Brands is launching a brand new 'Twin Tub' vending concept with King, the brand behind the world famous Candy Crush app-based games.
The concept is one tub containing both a candy offering, and in a completely separate section of the same tub, a Candy Crush novelty, such as a character keyring. These vending products will be available towards the end of 2017.
This is an exclusive, brand new vending product, created by the Tubz product development team, in conjunction with King.
Tubz Brands have also secured international vending rights for all King vending products, linked to games such as Candy Crush Saga.
Simon Smith, Tubz Brands' sales director, went to meet the King team at their London office in May 2016 and they loved the concept of the twin tub. A license agreement was drawn up and Tubz Brands have been working with King to develop a range of products over the last year.
Simon Smith said:
"We're always trying to innovate and move things on and there is no product like the Twin Tub. You can't normally put food and a novelty in one pot but with our new design the two compartments are kept separate so it allows us to do just that.
"The thing that drew us to Candy Crush is the similarity between the game and our machines. In the game you collect candies and our machines work in the same way, so it's a marriage made in heaven."
The Twin Tub will not solely be used for King vending products but Tubz Brands decided it would be a great brand with which to launch the new vending concept.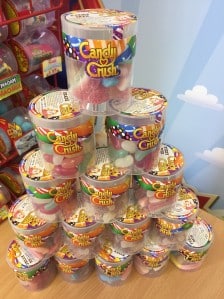 Tubz Brands plan to launch the Candy Crush Twin Tubs at the end of 2017. The launch has been postponed because of the introduction of the new one pound coin in the UK, so they are waiting until the old coin is no longer in circulation, so that there is no need to adapt new machines.
Tubz Brands plan to launch the Twin Tub in the UK and Europe to begin with, with the possibility of Australia to follow.
Tubz Brands has previously collaborated with brands such as Haribo and Nestle.
Photo attached of a Candy Crush Twin Tub product.
About Client Company: Tubz Brands is a British vending franchisor, with master franchises now in Europe, Australia and Canada. Their head office is based in the UK and they have offices in the Netherlands and China.
For more information visit http://www.tubzvendingfranchise.co.uk/ or http://www.tubzbrands.co.uk/
---

| Home | Vending Technology News | More News | Vending Newsletter sign up | Questions? Contact us | email press releases
Also see:  | Technology Companies | Photo Booths | Kiddie Rides | Crane Games | Amusement Coin-Operated Games | Amusement Distributors |
VENDING YELLOW PAGES DIRECTORIES:
Call us at 1-800-956-8363 to POST YOUR COMPANY, or QUESTIONS?