The Locker Network Showcases Revenue-generating Solutions at IAAPA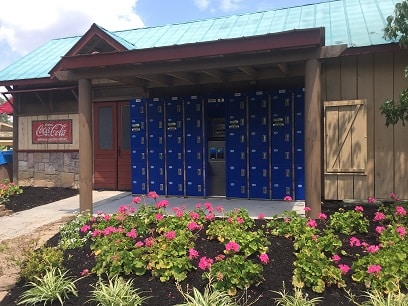 Dallas, TX, November 2017 – The Locker Network will be displaying its keyless electronic locker system for theme parks, waterparks, ski resorts, trampoline parks  and other entertainment venues at the IAAPA Expo taking place next week in Orlando, Florida.
Offerings will include their waterproof touchscreen locker system with patented, ultra-secure anti-jamming locks, and BOSS, the company's complete locker  software solution.
BOSS is a sophisticated application that comprises an easy to use, touch screen menu to guide guests through the locker rental process, plus a back-end system which gives operators full control of reporting functions. All transactions and activity are recorded, providing visibility and accountability of all locker revenues. Automatic software updates, remote support and automated report delivery make it easy to track and maximize revenues. Multiple payment options, secure access control and step by step voice
assistance in eight languages make it easy for even first-time users to rent a locker. There is also an easy access feature for guests with disabilities that assigns them a lower height locker for more comfortable access.
For a full demonstration of the latest innovations in locker systems, you are invited to Booth 1641 at
IAAPA, or visit www.thelockernetwork.com for more information.
About The Locker Network
The Locker Network, a subsidiary of Helix Leisure, is a leading manufacturer and supplier of advanced
keyless networked electronic locker systems to leisure and entertainment facilities worldwide. The Locker
Network draws on a legacy of 55 years of experience in the entertainment and game industry. The Locker
Network is chosen for their outstanding reliability, ease of use, high levels of security and comprehensive
support and monitoring. Incorporating the latest touch-screen technology, multi-payment and multilanguage
options and secure access control, your guests can rent a locker easily and quickly.
The Locker Network will help you to determine an optimum locker configuration and revenue model to suit
the needs of your location. Once installed, the exceptional durability and performance of the lockers
means very minimal to no staff supervision is required, allowing you to focus on your core business. For
more information, please visit www.thelockernetwork.com.
Follow Helix Leisure on LinkedIn for more updates: https://www.linkedin.com/company/helix-leisure
---

| Home | Vending Technology News | More News | Vending Newsletter sign up | Questions? Contact us | email press releases
Also see:  | Technology Companies | Photo Booths | Kiddie Rides | Crane Games | Amusement Coin-Operated Games | Amusement Distributors |
VENDING YELLOW PAGES DIRECTORIES:
Call us at 1-800-956-8363 to POST YOUR COMPANY, or QUESTIONS?