The Hottest Games of 2017 Debuting at IAAPA from LAI Games
Dallas, TX USA–November 2016 –HYPERshoot and Let's Bounce are two brand new LAI Games that will debut at this month's IAAPA Expo, booth 615. These player focused and competitive redemption games can be enjoyed by all ages and encourage group participation, and if their performance attest locations is any sign, they are destined to be some of the hottest games for 2017.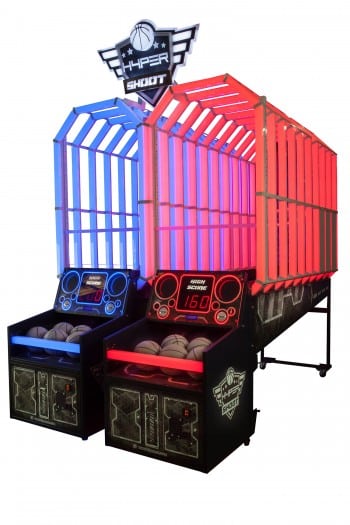 HYPERshoot reinvents arcade basketball with its innovative,interactive light tunnel, unique hoop and real time sports commentary. In game mode, the light tunnel senses the ball to mirror its flight like a comet trail, accompanied by live sports commentary and an illuminated ring making every throw fun and rewarding. As each successive basket is scored, the hoop rim powers up, indicating a player is on a streak and will earn extra points per basket. Scoring hoops in quick succession allows skilled players to pull ahead of the pack. Up to eight units can be linked for a striking light display.
For more information, visit www.laigames.com/hypershoot.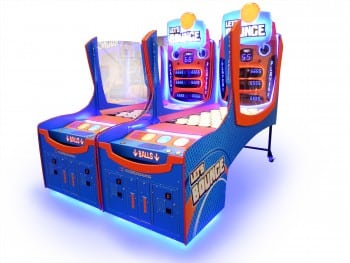 Let's Bounce's attractive and addictive game play is exciting and great fun for all ages. The playfield glows with LED tiles, making for a stunning presentation. Players get 20 balls to hit all 45 tiles for a game that's easy to play, but challenging to master. Single players compete against the clock to hit all tiles and enter the mini bonus round to win extra tickets and beat the high score. Two players go head to head on each round to beat the clock by launching all their balls and getting the highest score. It's exciting and suspenseful as players get down to their last remaining tiles in a race against the clock. Let's Bounce is known to draw a crowd, and having players line up to challenge their friends.
For more information and to view the product video, visit www.laigames.com/lets-bounce.
In addition, LAI Games will also have on display their newly redesigned redemption gameThe Vault, which bringsin great revenue per sq. foot, the award-winning Snapshot2 Photo Booth, and much more. Visit Booth 615 to play them all.
About LAI Games
LAI Games, a subsidiary of Helix Leisure, has been a leader in the interactive entertainment and game industry for over 50 years. The company develops, manufactures, and sells coin and card operated prize merchandising games, ticket redemption games, photo booths, kiddie rides, and video and novelty games. LAI Games is dedicated to bringing innovative and high incoming-producing games to the global market. For more information, please visit www.LAIGames.com. Follow Helix Leisure on LinkedIn for more updates: https://www.linkedin.com/company/helix-leisure
---

| Home | Vending Technology News | More News | Vending Newsletter sign up | Questions? Contact us | email press release |
Also see: Amusement Games | Redemption | FEC |
VENDING YELLOW PAGES DIRECTORIES:
Call us at 1-800-956-8363 to POST YOUR COMPANY, or QUESTIONS?