The Cube – World's First Modular Vending System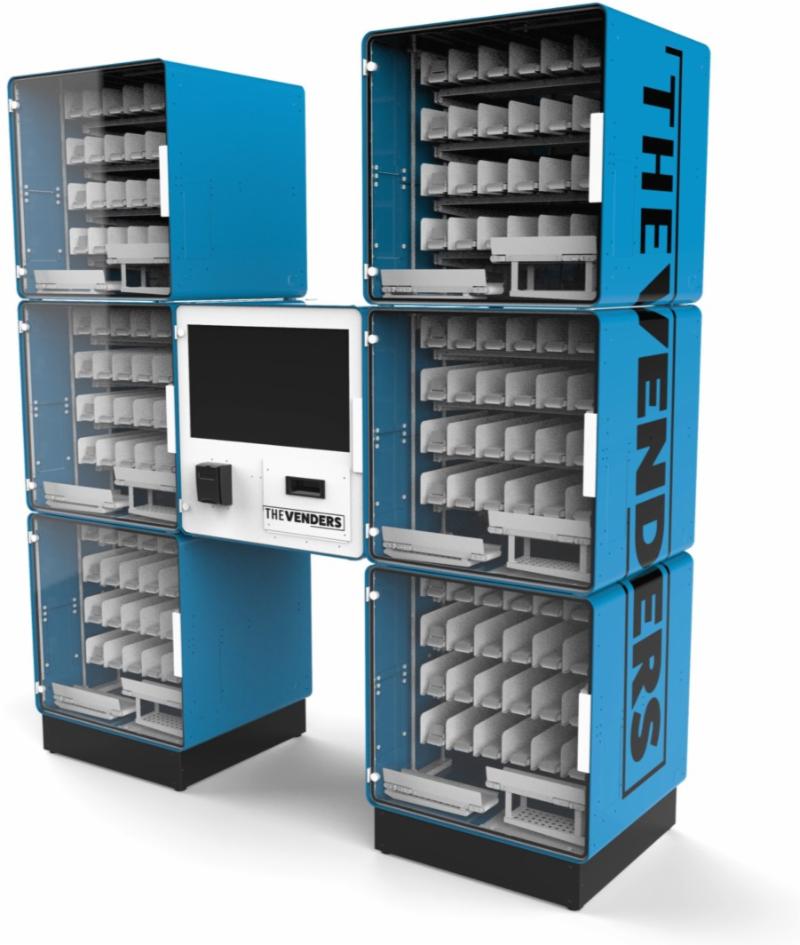 The Venders Develops The Cube – The World's First Modular Vending System. It is the first truly new idea in vending in over 50 years!
CORONA CA – July 12, 2018 – The Venders (www.the-venders.com), a leading developer of technologically advanced kiosks and patented automated retailing systems with the smallest footprint in the industry, announced that its newest innovation, The Cube, will begin shipping 4th quarter.
The CUBE is a unique, patented system with a modular design, allowing operators to configure units to meet any specific need or space requirement.
The CUBE features a patented conveyor/elevator system that allows any number of units to be stacked vertically or horizontally around a small, central control box. This unique design provides unprecedented flexibility.
The CUBE can accommodate a wide range of product sizes and shapes. The system features an array of advanced features, including vending drop sensors, cashless payment options, and a robust proprietary backend reporting module that allows operators to view sales data and modify pricing from anywhere in the world.
Each CUBE is only 24" tall by 24" wide by 24" deep, making it the smallest, most versatile system on the market. The Cube can be expanded with "Cube Towers" in a variety of interesting configurations to hold a wide array of products and attract consumer attention.
"Some people have said that The CUBE is like the 'LEGO' building blocks of the vending industry,"
Bob Bienias, Vice-President of The Venders commented. "We think that operators will love The CUBE's unique size and flexibility, and that it will be the system of choice to replace older, heavy vending systems with outdated designs and technology," he added. "The CUBE will also will find a home in thousands of locations where an old-school vending machine simply won't fit the space or décor."
As the first radically new idea in vending in over 50 years, The CUBE stands to revolutionize the industry and change the way consumers think about automated retailing.
"The sad truth is, there is a perception about many products coming out of an old-school vending machine," Bienias said. "At The Venders, we have developed new and unique systems that have turned the vending industry on its head, with innovative machines in interesting shapes and sizes that are fun, engaging, and versatile."
The Venders is now taking a limited number of orders for units that will ship later this year.
For more information, contact The Venders at (800) 469-0970, or visit: www.the-venders.com.
About The Venders
The Venders is a leading manufacturer and developer of unique, technologically advanced automated retailing systems and kiosks. The company has created a lineup of patented automated dispensing systems that increase consumer engagement, lower space requirements, and improve sales.
Call: (800) 469-0970
Email: info@the-venders.com
Visit: www.the-venders.com
Facebook: facebook.com/AutomatedRetailing
---

Vending Technology News | Vending Newsletter sign up | Questions? Contact us | email press release
Also see: Software Companies | Technology Companies | Vending Companies USA | Micro Markets | Kiosks |Cashless Vending | Distributors | Classified Ads | Home |
VENDING YELLOW PAGES DIRECTORIES:
Call us at 1-800-956-8363, POST YOUR COMPANY