Street Operators, Top FEC Chains Flock to Apple Industries Booth at Amusement Expo 2017
Apple named "Manufacturer of the Year" by AAMA as company highlights diverse and growing product line for all types of locations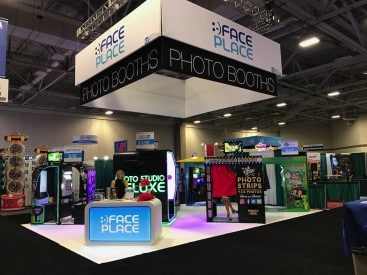 Greenvale, NY, March 20, 2017 – Apple Industries, honored as the U.S. amusement industry's 2016 "Manufacturer of the Year," welcomed a nonstop flood of customer traffic to its exhibit booth at this year's Amusement Expo International (Sheraton Dallas Hotel, Dallas, Texas, March 14-17).
Both street operators and FEC owners were excited to see world-premiere new models of Face Place Photo Booths, along with first-time trade show displays of recent upgrades and additions to cabinet graphics, digital photo content and networking technology across the product line.
"The overwhelming success of our IAAPA award-winning Photo Studio Deluxe has made strong believers out of the nation's leading FEC chains," said Apple CEO Allen Weisberg. "Weeks before Amusement Expo, executives of each major family entertainment center empire called to set formal appointments with us at the show. All week long at Dallas, we held very exciting meetings, featuring discussions about how FECs can make Face Place Photo Booths a key part of their equipment mix." "Street operators also kept our Expo booth crowded every hour," said Apple COO Scott Avery. "Our message is clearly getting across that Face Place models such as Sapphire and Ruby were specifically designed for street locations from the ground up — and they have now been freshly updated for even stronger appeal in bars and taverns."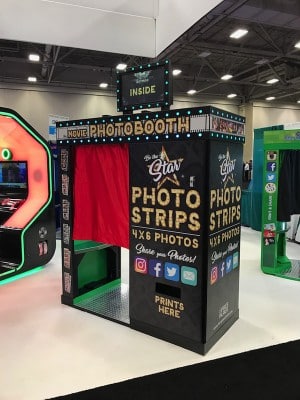 Amusement Expo 2017 saw the world premiere of The Movie Photo Booth, Apple's newest addition to its growing line of Face Place Photo Booths. With a footprint compact enough for tight street locations yet an interior roomy enough for three or four people at a time, The Movie Photo Booth is a visual knockout that grabs attention and draws customers.
The Movie Photo Booth's cabinet features special marquee-style lighting around a top exterior attraction monitor that previews the fun to be had inside. Apple's "green screen" technology enables customers to create digital photos of themselves with fantasy film backgrounds behind them. Movie-themed borders are also available.
Amusement Expo '17 gave many operators and FEC owners their first opportunity to see three brand-new experiences that Apple recently downloaded to its giant Face Place Photo Booth. And, Apple proudly spotlighted its sophisticated Smile 2.0 network, which builds on the Smile 2.0 operating system to link all networked machines on location to a single dedicated server for the first time. This integrated platform smoothly combines all Face Place content and programs, including the new "emoji" add-ons for photo image; Apple's Product Fulfillment Program for sales of photo-customized merchandise from each networked Face Place booth; and the "CinemaScene" program for exclusive movie-based, licensed content especially for units located in movie theaters.
"Amusement Expo 2017 offered us a great showcase to share the exciting news that Apple has reached new heights in cross-customer appeal," declared Scott Avery. "We now provide specialized products and licensed content for every type of operator and location from the street to FEC's, from sports parks to theme parks…and from music-based bars to sports bars, movie theaters and malls. If you're part of the amusements industry, there's a Face Place Photo Booth that's just right for you!"
Winning AAMA's "Manufacturer of the Year" award made Expo 2017 an even more powerful highlight for Apple. Apple was chosen for the award based on individual rankings by AAMA members in categories including "Success of Product," "Product Quality" and "Customer Service Support."
"On behalf of our entire team, I'd like to express our deep gratitude to AAMA for this thrilling accolade," said Allen Weisberg. "There is no greater tribute than to be recognized for excellence by your industry friends, peers and colleagues. We couldn't be prouder or more excited."
For more information visit: www.faceplacephoto.com
---

| Home | Vending Technology News | More News | Vending Newsletter sign up | Questions? Contact us | email press releases
Also see:  | Technology Companies | Photo Booths | Kiddie Rides | Crane Games | Amusement Coin-Operated Games | Amusement Distributors |
VENDING YELLOW PAGES DIRECTORIES:
Call us at 1-800-956-8363 to POST YOUR COMPANY, or QUESTIONS?