Parlevel Releases 'Koin' – Micro Market Payment Platform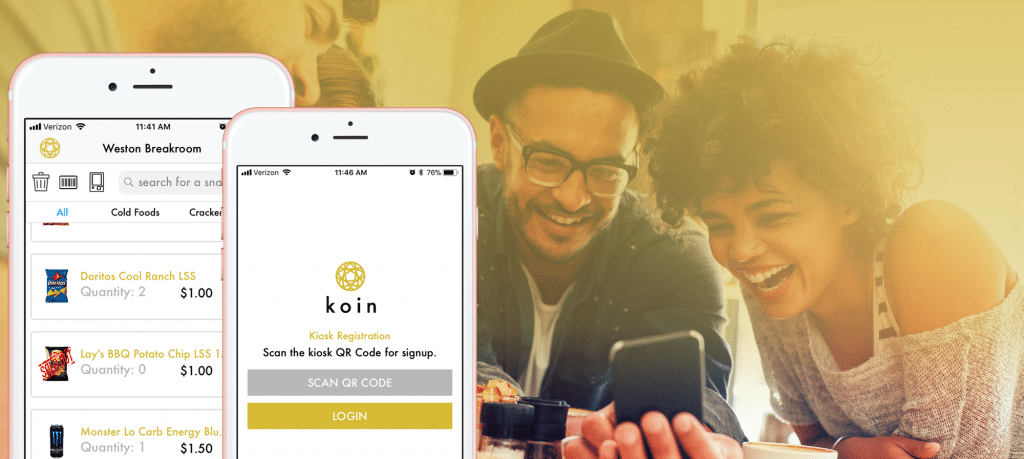 San Antonio, TX, November 30, 2017 Parlevel Systems, the technology provider for the most productive network of vending, coffee, and micro market operators in the world, announced the release of koin – a mobile application that enables micro market operators to increase micro market sales, improve customer satisfaction, and decrease or eliminate credit card transaction fees. koin allows micro market customers to pay with their mobile phone, utilize a wallet auto-reload feature, check micro market inventory remotely, provide service feedback to operators, and other features that enhance an operator's micro market offering.
With the koin app, operators can improve their services by allowing customers to manage their micro market accounts without the need to physically visit the kiosk. Customers can pay directly from the koin app, which expands payment versatility and cuts down on missed sales. Customers can also set up auto-reloads for their micro market wallets. For example, once a customer's wallet balance drops below a preselected amount (i.e. $5), their virtual wallet will automatically reload with a selected amount (i.e. $20) – speeding up transaction times and generating more revenue through constant credit availability. With these features, koin helps Parlevel micro market operators provide customers unparalleled service and convenience.
koin also helps operators reduce cashless transaction fees or avoid them completely – koin reloads made with cash on the kiosk have a 0% card processing fee. Operators can use koin to  ensure smoother grand openings by letting customers register for accounts remotely instead of physically visiting the kiosk. Potential customer issues are decreased as quick registration and easy account management is available to customers at all times. Customer feedback functionality and continuous feature releases to the koin app will help Parlevel operators maintain their competitive edge and keep their customers well-served, growing, and engaged.
"koin is the first of many upcoming additions to our micro market family that bring convenience and versatility to customers," said Rafa Barroso, chief information officer at Parlevel Systems. "koin is an extension of the Parlevel Micro Market solution, which allows customers to establish access to their information without having to physically be at the point of sale. By providing alternatives for reloading wallet balances, item purchasing, pin resets, and even new user registration, we increase kiosk availability, which reflects in shorter lines and radically improved purchase experience. Plus, tools like auto wallet reloads ensure operators won't miss any sales if a customer forgot to bring their wallet. We are very excited to provide micro market operators even more tools in the next few months that continually enhance the extreme usefulness of koin."
Payments through koin are secure, and Parlevel does not store payment information. Purchasing micro market products remotely through koin is optional, and loyalty and reward programs will soon be implemented. koin is available for current Parlevel micro market operators through the koin app on iOS, on web at parlevelkoin.com and through the Parlevel vending management system (VMS). For more information on Koin, please visit parlevelsystems.com/koin
About Parlevel
Based in San Antonio, Texas, Parlevel Systems transforms food and beverage organizations through remarkable processes, outstanding products, and a legendary customer service. Founded by successful vending and technology professionals, Parlevel provides a robust set of management and sales tools for businesses of all sizes around the world. Parlevel utilizes a dedicated customer support team to ensure efficient implementation and systems adoption.
---

| Home | Vending Technology News | More News | Vending Newsletter sign up | Questions? Contact us | email press release
Also see: Software Companies | Technology Companies | Micro Markets | Distributors | Machine Manufacturers | Vending Companies USA
VENDING YELLOW PAGES DIRECTORIES:
Call us at 1-800-956-8363 to POST YOUR COMPANY, or QUESTIONS?