LOCAL BEEF JERKY COMPANY, RED TRUCK®, INTRODUCES OLD BAY SEASONED BEEF JERKY
Gourmet Grade-A Beef Jerky Seasoned with OLD BAY®, a Regional Favorite, is Now Available in Stores and Online!
OWINGS, MARYLAND – September 22, 2016 – Red Truck Beef Jerky, LLC proudly announces their newest flavor, OLD BAY® Seasoned Gourmet Beef Jerky.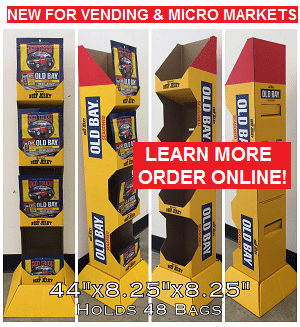 Beginning in September 2016, select retailers in the Maryland, Delaware, Pennsylvania, and Virginia region will carry this amazing new gourmet beef jerky. A special blend of OLD BAY seasoning was designed specifically for Red Truck's gourmet beef jerky and will  sure to satisfy the beef jerky and OLD BAY lover in all of us.
Like many inventive products, adding OLD BAY to Red Truck was conceived by chance. Red Truck's Vice President, Vic Guido, was born and raised in Maryland. Growing up in Maryland comes with an almost inherited love of OLD BAY. There seems to be no restrictions on what OLD BAY lovers will sprinkle with their favorite seasoning. Sitting around one evening watching TV, Vic asked his wife to please bring him one of the many cans of OLD BAY in their kitchen. After dumping a heaping amount of OLD BAY into a bag of his original flavor beef jerky and shaking, he and his wife Lisa both gave it a taste. Well, the next call was to his partner Richard who immediately contacted the OLD BAY team.
Over the course of the next several months, both companies worked closely to create the perfect blend of OLD BAY Seasoning for the gourmet beef jerky. The end result of everyone's hard work is a beef jerky of the highest quality being packaged with the iconic yellow and blue colors made so popular by OLD BAY.
As an OLD BAY lover in his own right, President/Partner Richard Cresswell noted, "from the initial phone call from Vic with the idea, to the finished product, I am proud to say we will be associated with what we feel is the greatest flavor company in the world. We will be offering our faithful customers a quality snack, with quality OLD BAY taste."
"OLD BAY was excited to work with Red Truck Beef Jerky, allowing them to offer a meat snack product to the market that features the iconic flavor of our OLD BAY Seasoning with the quality of beef that Red Truck customers have come to expect," says Justin Corrado, OLD BAY Product Manager.
Red Truck Beef Jerky is made with 100% Grade-A sliced beef, from farms right here in the USA. All our flavors boasts: No MSG, No Maltodextrin, No Artificial colors or additives, and No Corn Syrup. We started with our Original flavor, and have expanded our line to include Teriyaki flavor, Cracked Pepper Corn flavor, world famous Hatch Hot Chili Pepper of New Mexico, and now OLD BAY.
The new OLD BAY Seasoned Beef Jerky will be available at locations throughout Maryland, Pennsylvania, and Virginia, and additional states over the coming months. Please visit our website for locations near you. It will also be available at our website www.redtruckbeefjerky.com
Red Truck Beef Jerky
Red Truck Beef Jerky, LLC. is a gourmet beef jerky company based in the United States. Along with our retailers and distributors across the country we also have a thriving online store, and a dropship program for our smaller retailers that does not require large minimums in order to reap the benefits of selling our gourmet beef jerky. For additional information about our product, please visit our website at www.redtruckbeefjerky.com and remember to follow us on Facebook @ "Red Truck Beef Jerky" and on Twitter @RedTruckJerky.
Contact: Richard
Email: RichardC@RedTruckBeefJerky.com
Website: Red Truck Beef Jerky, LLC
---

| Home | Vending Technology News | More News | Vending Newsletter sign up | Questions? Contact us | email press release
Also see: MEAT SNACKS, Fruit Snacks | Healthy Snacks | Wholesale Snacks | Micro Markets |
VENDING YELLOW PAGES DIRECTORIES:
Call us at 1-800-956-8363 to POST YOUR COMPANY, or QUESTIONS?