LAI Games Will Showcase Hit Games at Amusement Expo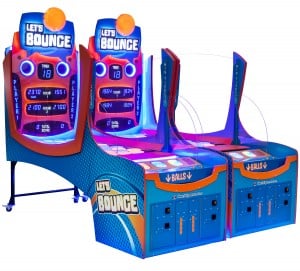 Dallas, TX USA – February 2017 – LAI Games' new hits, Let's Bounce and HYPERshoot will be continuing their successful tour of US shows and open houses at next month's Amusement Expo in Dallas, TX. These player-focused and competitive redemption games can be enjoyed by all ages and have performed extraordinarily well in test locations.
Jay Trietley, General Manager for Alley Cats bowling and entertainment center in Arlington, TX said, "Let's Bounce has been a big hit with our customers. It is very bright and eye catching. You are drawn to it! Customers like the quick and challenging play, and we see a lot of replays. It is a solid earner and in the top 20% of our room averaging over 800 plays we week." He continued, "Another great addition to our room are the HYPERshoot basketballs. They are bright, durable, and are played non-stop every weekend!
HYPERshoot is one of the best basketball-style games we have had in a long time." HYPERshoot reinvents arcade basketball with its competitive speed play, plus an interactive light tunnel, unique hoop and real time sports commentary. Scoring hoops in quick succession allows skilled players to pull ahead of the pack. Up to eight units can be linked for a striking light display.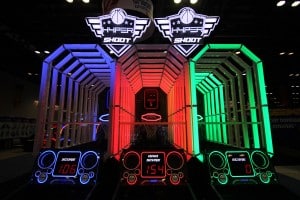 For more information and to see a video of the game in action, visit www.laigames.com/hypershoot.
Let's Bounce's attractive and addictive game play is exciting and great fun for all ages. Players get 20 balls to try to hit 45 tiles for a game that's easy to play, but challenging to master. It's exciting and suspenseful as players get down to their last remaining tiles in a race against the clock. For single or double players, Let's Bounce is known to draw a crowd and having players line up to challenge their friends.
For more information and to see a video of the game in action, visit www.laigames.com/lets-bounce.
About LAI Games LAI Games, a subsidiary of Helix Leisure, has been a leader in the interactive entertainment and game industry for over 50 years. The company develops, manufactures, and sells coin and card operated prize merchandising games, ticket redemption games, photo booths, kiddie rides, and video and novelty games. LAI Games is dedicated to bringing innovative and high incoming-producing games to the global market.
For more information, please visit www.LAIGames.com.
Follow Helix Leisure on LinkedIn for more updates: https://www.linkedin.com/company/helixleisure
---

| Home | Vending Technology News | More News | Vending Newsletter sign up | Questions? Contact us | email press releases
Also see:  | Technology Companies | Photo Booths | Kiddie Rides | Crane Games | Amusement Coin-Operated Games | Amusement Distributors |
VENDING YELLOW PAGES DIRECTORIES:
Call us at 1-800-956-8363 to POST YOUR COMPANY, or QUESTIONS?