LAI Games New Virtual Reality Ride Wins 2018 AMOA Innovator Award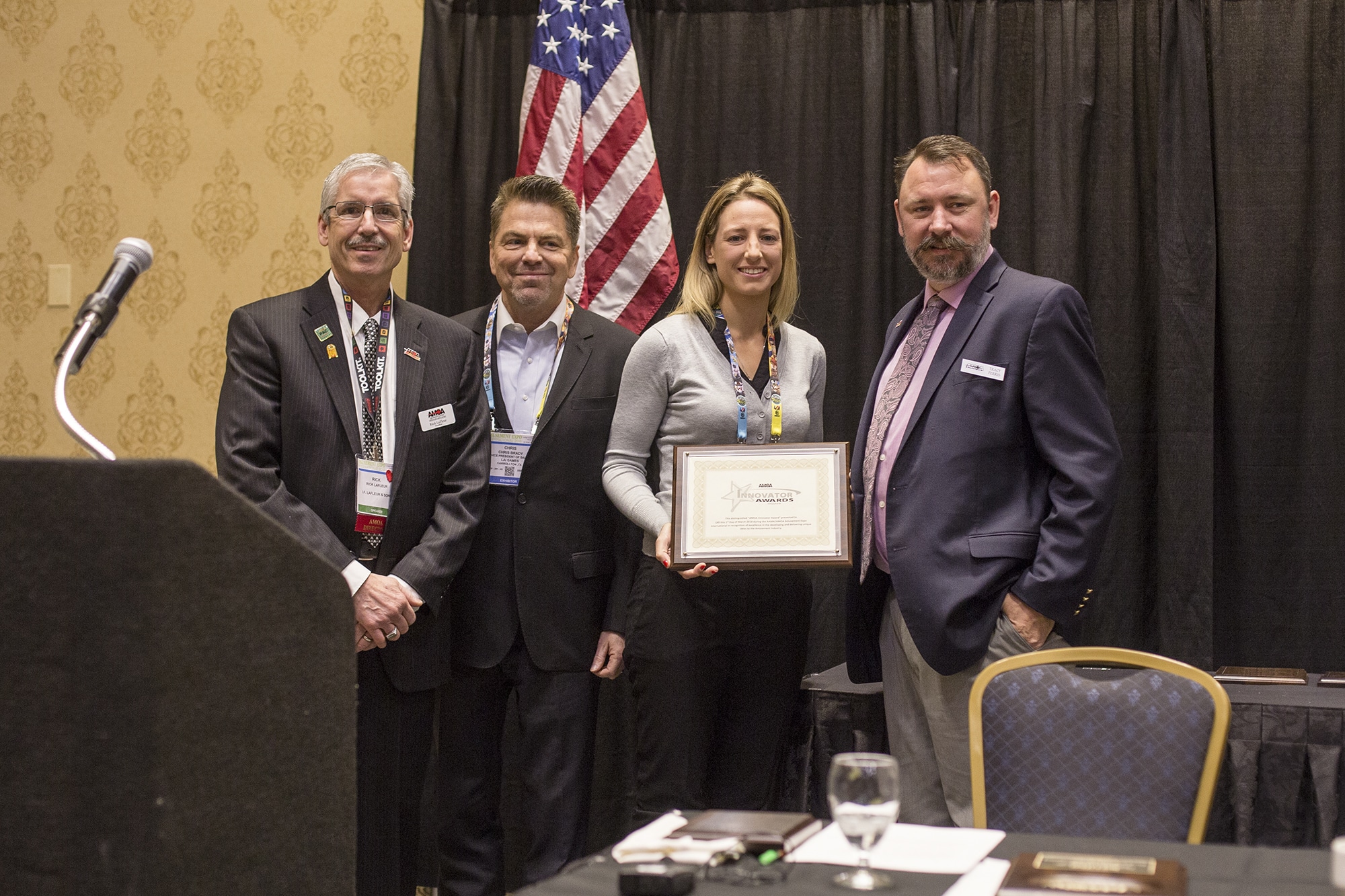 Dallas, TX USA – March 2018 – At an Amusement Expo dominated by talk of Virtual Reality and what it means for the out-of-home entertainment industry, LAI Games new Virtual Rabbids: The Big Ride was named a winner of the AMOA's 2018 Innovator Award. As the industry's first attendant-free VR attraction that operates and is serviced like any other coin-op amusement game, The Big Ride makes high-quality VR accessible to a wide range of venues.
Managing Director for LAI Games, Mirry Glavan said, "We are greatly humbled and honored to have received such an important award, the AMOA Innovator Award for Virtual Rabbids: The Big Ride. LAI Games is paving the way for innovation in the out-of-home entertainment industry, and awards like this confirm we are doing it right. We are very fortunate to have such a creative and passionate team who make innovative products like this possible."
LAI Games has won the AMOA Innovator Award multiple times in recent years, and is proud to be part of a dynamic and growing industry.
About Virtual Rabbids: The Big Ride
Virtual Rabbids: The Big Ride provides a VR experience that will entertain enthusiasts and first-time users alike. It was created in partnership with pioneering video game developer Ubisoft and features the global powerhouse Rabbids brand in three thrilling experiences suitable for all ages. Employing state-ofthe-art technology including a D-Box motion platform, HTC Vive headsets, dynamic wind simulation and hi-fi audio, The Big Ride is an unforgettable experience for guests and a winner with operators.
About LAI Games
LAI Games, a subsidiary of Helix Leisure, has been a leader in the interactive entertainment and game industry for over 60 years. The company develops, manufactures, and sells coin and card operated prize merchandising games, ticket redemption games, photo booths, kiddie rides, and video and novelty games. LAI Games is dedicated to bringing innovative and high incoming-producing games to the global market. For more information, please visit www.LAIGames.com.
Follow Helix Leisure on LinkedIn for more updates: https://www.linkedin.com/company/helixleisure
---

| Home | Vending Technology News | More News | Vending Newsletter sign up | Questions? Contact us | email press release
Call us at 1-800-956-8363 to POST YOUR COMPANY, or QUESTIONS?