Kokomo Joe's Offers Guest Security and Convenience with The Locker Network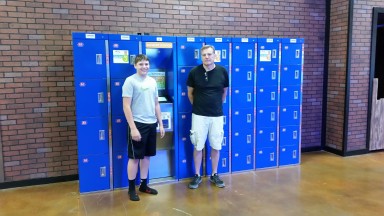 Dallas, TX, July 2017 – The Locker Network continues to grow its footprint in family entertainment centers with the recent addition of its keyless electronic locker system at Kokomo Joe's family fun center in St. Peters, MO.
Kokomo Joe's is a large format entertainment venue offering a wide variety of activities for guests of all ages including a kart track, escape rooms, laser tag, laser maze, bumper cars, mini golf, mini bowling, a fully equipped game arcade as well as an extensive range of food and beverage options.
Kokomo Joe's owner Joe Johnson chose The Locker Network as a secure and convenient alternative to their old keyed locker system, which was expensive and difficult to manage. Now his guests can secure their belongings easily and confidently, while the venue benefits from a profitable revenue stream. Their self-service bank of 38 lockers offers small and family sizes to suit a range of guests' needs.
Marshall Ashdown, Senior VP for The Locker Network said, "I'm delighted that we could offer a customized keyless locker solution at Kokomo Joe's that increases guest security and minimizes local staff input."
For more information, visit www.kjfun.com.
About The Locker Network The Locker Network, a subsidiary of Helix Leisure, is a leading manufacturer and supplier of advanced keyless networked electronic locker systems to leisure and entertainment facilities worldwide. The Locker Network draws on a legacy of 55 years of experience in the entertainment and game industry. The Locker Network is chosen for their outstanding reliability, ease of use, high levels of security and comprehensive support and monitoring. Incorporating the latest touch-screen technology, multi-payment and multilanguage options and secure access control, your guests can rent a locker easily and quickly.
The Locker Network will help you to determine an optimum locker configuration and revenue model to suit the needs of your location. Once installed, the exceptional durability and performance of the lockers means very minimal to no staff supervision is required, allowing you to focus on your core business.
For more information, please visit www.thelockernetwork.com.
Follow Helix Leisure on LinkedIn for more updates: https://www.linkedin.com/company/helix-leisure
---

| Home | Vending Technology News | More News | Vending Newsletter sign up | Questions? Contact us | email press releases
Also see:  | Technology Companies | Photo Booths | Kiddie Rides | Crane Games | Amusement Coin-Operated Games | Amusement Distributors |
VENDING YELLOW PAGES DIRECTORIES:
Call us at 1-800-956-8363 to POST YOUR COMPANY, or QUESTIONS?