JOHN MURN HONORED AT "GERALDO" SEPT. 27TH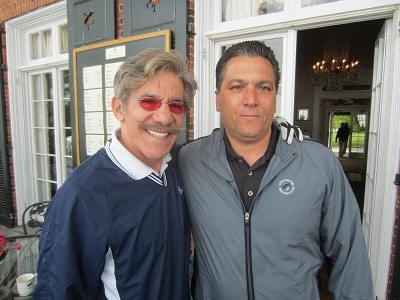 John Murn of Huntington, NY will be the guest of honor at the 32nd Annual "Geraldo Rivera Golf & Tennis Classic" to be held at The Creek in Locust Valley, NY, Thursday, September 27th.  Proceeds from the $750 per ticket event will benefit Life's WORC/The Family Center For Autism, a 47-year-old non-profit organization based in Garden City, NY.  Life's WORC/Family Center provides a variety of services in Queens-Nassau-Suffolk for more than 2000 people with developmental disabilities and autism.  Victoria Schneps, publisher of the Long Island Press and other weekly newspapers in both Queens and Brooklyn, NY, originally launched the agency with help from broadcast journalist icon Geraldo Rivera, who will be hosting this occasion.
Mr. Murn is the Founder/CEO of Next Level Fitness Water, a premium Adirondack artesian well-sourced water from a Hartford, NY region geological aquifer dating back over 450 million years, more than 250 feet deep.  It is well-known amidst sports clubs, athletic facilities, training centers, spas, and health centers.
For more than twenty years, John Murn and his brother Tom have been the Principals of Answer Vending, a family-owned Northeast market leader automatic convenience vending company, based in East Farmingdale, NY.  This company was recently acquired by Compass/Canteen.
Mr. Murn is the Principal of M & J Commissary in Long Island City, NY, an operation dedicated to servicing, upgrading, improving, and expanding food carts in the greater New York tri-state region. 
John Murn established RSA Management Group (Greenlawn, NY) which so far has enabled more than 2000 blind people to establish automatic convenience vending enterprises across the nation.  John Murn together with Nick Gacos, President of the National Association of Blind Merchants (a division of the National Federation of the Blind) have been catalysts for opening many states to have policies on vending concession contracts parallel to the Federal government.
Mr. Murn has been recognized by his peers for his advocacy and efforts to boost economic development for New York's automatic convenience vending industry.  He is the President of the New York State Automatic Vending Association, an industry organization with some 200 members associated with NAMA, the National Automatic Merchandising Association.   
In April 2018, John Murn was recognized by Long Island Business News for his corporate leadership in diversity.
For information to attend this September 27th event, go to https://lwevents.org/ or telephone, 516-741-9000-X15000.
---

Home | Vending Technology News | More News | Vending Newsletter sign up | Questions? Contact us | email press release
Call us at 1-800-956-8363 or POST YOUR COMPANY