Hazleton Native Uses Brother's Advice To Spur Vending Career
Hazleton PA. native Lou Kershbaumer had to be convinced by his brother to get into the vending machine business when he came out of the Navy in 1960.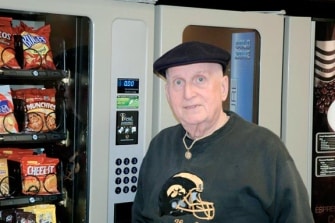 Kershbaumer really found his niche, forging a 60-year career with vending machines.
"Vending machines were big before convenience stores," Kershbaumer said. "They sold candy and cigarettes in service stations, restaurants and manufacturing plants.
When his brother, Pete, started in the business in 1954, it was a $1 billion-a-year business. When Lou started in 1960, it was a $3 billion-a-year business, he said.
And it kept growing, as did Kershbaumer's sales.
"In 1964, machines that vended coffee were introduced," he said. "Back then, it was freeze-dried or instant coffee. Today, you could get coffee 40 different ways, even cappuccino. The quality of the coffee has advanced over the years. The quality is as good as any restaurant."
When he started, Lou worked for the Lehigh Company in Easton. In 1963, he joined the Wittern Group as a distributor of vending machines.
"At that time, cigarettes wholesaled for $2.40 per carton, and sold for $3 a carton," Kershbaumer said. "A smoker today could buy 20 cartons then for what one carton costs today."
Kershbaumer also did some research into coin-operated laundries. He started going to coin laundry shows in 1963 when coin laundries were just starting to take off
"Then, in 1965, machines started vending sandwiches," Lou said. "The refrigerated machines vended them. We even made machines that were half-refrigerated and half-frozen. The frozen machines vended products like ice cream.
"It was a $3 billion-a-year business when I started, and has become a $49 billion-a-year business."
In 1966, Lou made the last move of his career – to Des Moines, Iowa, where he became president of Federal Machine Corp.
"We manufactured the machines in a 52,000-square-foot plant," Kershbaumer said. "The plant has since become over a 500,000-square-foot plant."
Over the next 28 years, until his retirement in 1994, Kershbaumer started more than 500 distributors and operators who sold or purchased more than 250,000 vending machines.
He also saw vending machines advance in usage.
"In 1970, the dollar bill validator was introduced," he said. "Now people could use change and bills."
Around 1980, when convenience stores became prominent, vending machines took a step back. But Kershbaumer said additional and different uses made them viable again.
"When convenience stores started to dominate, we lost a lot of the sales from candy, cigarettes and snack machines," he said. "That's when we improved the quality of coffee in vending machines, and put bag snacks in them.
"And we put the machines in places they had never been before, like office buildings," he said. "Employees in offices and manufacturing companies did not have the time in the workplace to do anything else but use vending machines. Bag snack sales accounted for about 50 percent of vending machine sales."
When Kershbaumer retired from Federal Machine in 1994, a statement from the company commended him for his role in making the company a dominant force in the vending industry. The company noted that every head of its six sales organizations has served under Kershbaumer in either a distributorship or employment capacity.
Kershbaumer served in the Navy during the Korean War, and when he returned home, he went into the Naval Reserve.
But he was convinced by his friend and neighbor, Ray Saul – with whom he had taken pictures at more than 500 weddings when they were younger – to go back on active duty with the Naval Reserve in Johnstown.
"Ray lived across the alley from me (on Hazleton Heights)," Kershbaumer said. "My brother Virgil still lives in that house. Ray was a few years older than me."
While in Johnstown in 1957 as administrator of Division 4-47, he helped the unit get the Bull Halsey trophy as the best Naval Reserve division in the nation.
Although retired, Kershbaumer has stayed active as a distributor, doing business as Vending Machine Sales in Des Moines. He sells machines nationally.
Even with the advent of convenience stores, Kershbaumer said vending machines have a future.
"There are cashless machines," he said. "You can use a debit or credit card. They are already in Europe and Asia.
"They can also be used as inventory control machines," he continued. "On the railroad, they are used to dispense gloves. The railroad cut the use of gloves in half with vending machines, because they could do successful inventory control with vending machines.
"The machines can also be put into manufacturing plants. It can dispense tools and dyes, and control their amount."
Written by BY JIM DINO.
Check out Lou's website!
Lou sells all types of vending machines at factory direct low prices vendingmachinesales.com, or call Lou at 800.313.1821.
---

| Home | Vending Technology News | More News | Vending Newsletter sign up | Questions? Contact us | email press releases |
Also see:  | Technology Companies | Micro Market Companies | Vending Machine Distributors | Vend Classified Ads | Routes for sale | Home |
VENDING YELLOW PAGES DIRECTORIES:
Call us at 1-800-956-8363 to POST YOUR COMPANY, or QUESTIONS?