Five Star Celebrates the New Year with 600th Market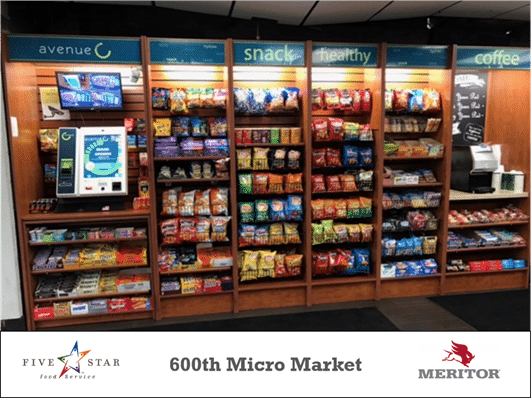 CHATTANOOGA, TN – With 2016 in the rearview, Five Star begins 2017 celebrating another milestone, the opening of its 600th micro-market. This year has the makings to be the most exciting in Five Star's history.
"The opening of our 600th micro-market marks another significant milestone for our micro-market business. 2016 was a busy year for us, but we are very excited about what the New Year has in store," commented President and CEO Alan Recher.
A Toast to 600
Micro markets 600 and 601 have been installed at Meritor, Inc.'s production facility in Morristown, TN about a 45 minute drive northeast of Knoxville. Meritor, a longtime vending customer, is a global supplier of axle, brake and suspension parts to original equipment manufacturers and the aftermarket for commercial truck, trailer, bus and coach and off-highway machinery manufacturers, in addition to defense contractors.  The Morristown facility produces over 5 million parts annually. The company has been eyeing a conversion to micro-markets for some time and saw the New Year as the perfect time to leave behind traditional vending.
An all-day grand opening celebration will be held tomorrow for employees including brief tutorials on how to shop the market and cash vouchers to make their first purchase. Also, the first 600 employees will enjoy complimentary Five Star coffee, Aquafina bottled water from PepsiCo, and gem donuts from Mrs. Freshley's.
To encourage early market participation and adoption, Five Star is running a celebratory giveaway promotion that will award $600 in prizes to employees for their activity in the market.
The Best Year in Company History
As most New Year's start with resolutions, it is fitting that Five Star has been working on a few of its own to make 2017 the best in company history. To name a few: unprecedented promotions, data-driven analytics and decisions, innovative market concepts, enhanced market designs and cabinetry, reinvigorated market branding, launches in technology and ecommerce, and laser-focused operational execution.
About Five Star Food Service
Five Star Food Service, based in Chattanooga, TN, is the Southeast's premier on-site food and beverage solution provider to employers and other commercial, institutional, and educational locations. Five Star is a leader in micro-markets, full-service vending, coffee services, full-service dining, and catering across Tennessee, Georgia, and Alabama. Founded in 1993, Five Star Food Service has grown to one of the largest privately held operators in the United States and is a franchise of Canteen Vending. For more information visit www.fivestar-food.com.
---

Vending Technology News | More News | Vending Newsletter sign up | Questions? Contact us | email press releases |
Also see:  | Technology | Micro Markes | Vending Machine Distributors | Vend Classified Ads | Routes for sale | Home |
VENDING YELLOW PAGES DIRECTORIES:
Call us at 1-800-956-8363 to POST YOUR COMPANY, or QUESTIONS?