Face Place Photo Studio Deluxe Wins 1st Place "Brass Ring" Award as IAAPA'S Best New Product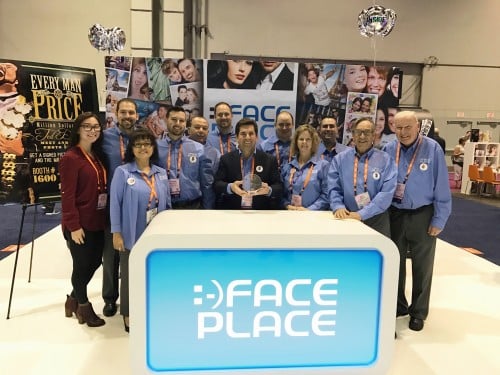 Orlando, FL, Nov. 15, 2016 – Apple Industries will have to build another shelf for its trophy cabinet.  On the opening day of IAAPA 2016, Apple received First Place honors in the form of the 2016 IAAPA "Brass Ring" Award for their innovative Face Place Photo Studio Deluxe.
Photo Studio Deluxe is the Face Place Photo Booth with enough room inside for six or more people.  It serves as a "movie studio on location," allowing customers to take group photos with a growing database of different themes, settings and character driven scenes.
In selecting Photo Studio Deluxe for the 2016 Brass Ring Award, the IAAPA Awards Committee elevated the attraction to the show's First Place honor for Best New Product after considering dozens of competing amusement games and photo booths.
"We are proud and thrilled to receive this outstanding honor," said Apple CEO Allen Weisberg.  "Our engineering, production and marketing teams worked very hard to design, build and support the Photo Studio Deluxe.  It is the biggest award that could be bestowed on the biggest photo booth in the industry!"
Photo Studio Deluxe features a steel cabinet 90 inches tall, 70 inches long and 66 inches wide.  Earnings have also been giant-sized at a range of locations including movie theaters, FECs, large game rooms and shopping malls.
From the 5,000 LEDs inside the booth to dazzling exterior lighting on the sparkly black cabinet, the attraction of a lighted logo and glowing trim on the sides and bottom of the booth is sure to catch everyone's eye.
Video sequences guide customers through their immersive photo shoot.  They can customize classic backdrops for special events…or get wild and crazy with colorful characters ranging from rock stars to rappers, pirates, mobsters and a wrestling fan promoting the company's newest WWE license.  Another dozen choices round out the selections, including giving the user the ability to "travel the world" or have a "dance off" plus many more fun and exciting options.  Apple's unique "Green Screen" utilizes retro reflective technology and a silver background, which puts customers into a multi-layered image without the eye-sore of the bright theksm.virusinc.org/medicine/ green backdrop. The technology utilized is subtle and classic with all the benefits of traditional green screen.
This Award-Winning Photo Booth operates on the newly launched Smile 2.0 Network, so customers can share photos with friends and family via email and social media, right from the touchscreen.  Business' can also customize logos and backgrounds (and locations can insert their mascots or guest of honor) as well as constantly receive new updates and scenes remotely, with no hassle or work required on their part.
The Brass Ring Award was announced at a special awards ceremony during this year's IAAPA Show in Florida, which typically draws 20,000 visitors from around the world to see the latest products from 1,000+ exhibitors.
2016 has been an awards-heavy year for Apple. In March the company received the AMOA Innovator Award for its new Product Fulfillment Program and Play Meter magazine's "Operator's Choice" Award for Best Photo Booth, accorded to the entire Face Place line of products.  In April, Apple was honored with the respected Appreciation Award from its exclusive Middle East distributor, Warehouse of Games.  Most recently, during the summer, Allen Weisberg was honored with AAMA's prestigious Joe Robbins Award for association leadership.
Apple Industries Inc. is a leading provider of digital imaging solutions for retail environments. Apple Industries manufactures, markets and sells the award winning line of Face Place digital photo booths. Face Place photo booths contain Smile 2.0 software which allows customers to purchase photo strips, 4×6 photos, and to share their photos directly from the photo booths by email, Facebook or Twitter. Apple Industries has been in the photo, vending, coin-operated machine and event planning industries for more than 30 years.

For more information visit www.faceplacephoto.com.
---

| Home | Vending Technology News | More News | Vending Newsletter sign up | Questions? Contact us | email press releases
Also see:  | Technology Companies | Photo Booths | Kiddie Rides | Crane Games | Amusement coin op games |
VENDING YELLOW PAGES DIRECTORIES:
Call us at 1-800-956-8363 to POST YOUR COMPANY, or QUESTIONS?