Face Place Photo Studio Deluxe Heats Up EAG International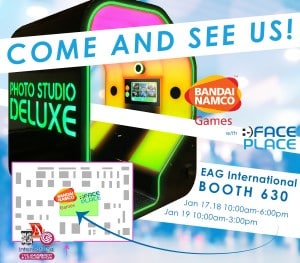 London, UK, Jan. 17, 2017 – Face Place is heating up EAG International Expo, being held at the ExCel London Exhibition Centre, with this year's winner of the IAAPA Brass Ring Award: First Place Best New Product, the Face Place Photo Studio Deluxe. On the first day of the show, crowds were gathering to use the state-of-the-art photo booth, and see for themselves what everyone in the industry is talking about. Those who used the booth were greeted with a special surprise as Face Place/BANDAI NAMCO loaded a special Pac-Man photo experience into the booth by utilizing Face Place's Smile 2.0 Network.  Face Place has also included 4 other brand new photo experiences, which were previously showcased at the IAAPA show in November, but will not be released to Smile 2.0 Network connected units until February.
This immersive photo booth is a proven revenue earner, in fact it is the top earning photo booth ever, even achieving the number one rank in prominent FECs.  It is also a crowd-pleaser, as its immense size accommodates large groups in one shot. Attendees of EAG get to see first-hand just how remarkable this photo booth is by visiting BANDAI NAMCO Entertainment Booth 630 on the showroom floor.
Apple Industries Inc. is a leading provider of digital imaging solutions for retail environments. Apple Industries manufactures, markets and sells the award winning line of Face Place digital photo booths. Face Place photo booths contain Smile 2.0 software which allows customers to purchase photo strips, 4×6 photos, and to share their photos directly from the photo booths by email, Facebook or Twitter. Apple Industries has been in the photo, vending, coin-operated machine and event planning industries for more than 30 years. For more information visit www.faceplacephoto.com.

---

| Home | Vending Technology News | More News | Vending Newsletter sign up | Questions? Contact us | email press releases
Also see:  | Technology Companies | Photo Booths | Kiddie Rides | Crane Games | Amusement Coin-Operated Games |
VENDING YELLOW PAGES DIRECTORIES:
Call us at 1-800-956-8363 to POST YOUR COMPANY, or QUESTIONS?