FACE PLACE PHOTO BOOTHS EXPAND TO BALLPARKS

AS THE 2018 BASEBALL SEASON GETS UNDERWAY, APPLE'S EXCLUSIVE MAJOR LEAGUE BASEBALL LICENSE CONTINUES TO GROW…AND FACE PLACE PHOTO BOOTHS EXPAND TO MORE BALLPARKS & SPORTS BARS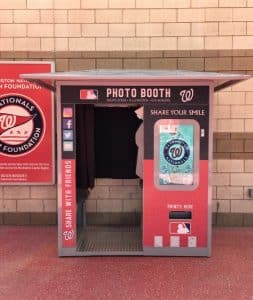 Greenvale, NY, April 4, 2018 – The Opening Day home game at New York's Yankee Stadium may have been "called on account of snow" this year, or at least delayed a few days.
But Apple Industries says its Face Place Photo Booths are always in season, thanks to a growing library of licensed content from Major League Baseball teams. Customers can integrate exciting MLB images, graphics, and logos into their photos to show their support for the home team.
While the company's MLB content grows, so does the number of ballparks nationwide that proudly feature Face Place.
New installations include Comerica Park, home of the Detroit Tigers; Nationals Park, home of the Washington Nats; and coming in a few weeks, Busch Stadium, home of the St. Louis Cardinals. "There's been tremendous interest in our products from MLB teams and concessionaires," said Apple COO Scott Avery.  "MLB-licensed photos make fantastic personalized souvenirs, at a relatively low cost, for MLB fans" added Avery.
Operators who own networked Face Place units with Smile 2.0 software can download the MLB content for free, taking advantage of some of the most popular and durable entertainment properties in history.
"Apple Industries signed a license agreement with MLB in 2013, making us the only officially licensed photo booth of the league," explained Apple CEO Allen Weisberg.  "Baseball has been one of our most popular content categories ever since!"
"Our MLB license is the reason we can manufacture custom photo booths for individual teams and install them at their very own ballparks," pointed out Apple COO Scott Avery.  "The fans just line up to get their photos taken, showing them with their favorite baseball team's graphics from the Cubs to the Mets, the Yankees, the Tigers and more!"
MLB-themed photo booths are also incredibly popular in sports bars across America, said Apple executives.
"Fans just feel more connected to their teams when they can step into a photo booth, snap some photos and get prints that show them against a ballpark background," said Allen Weisberg.  "Especially when all the images feature their favorite team's instantly recognizable logo!"
"As baseball season gets underway, it's a great time to step up to the plate and knock one out of the park with Face Place," declared Weisberg and Avery.  "Batter up!"
---

Home | Vending Technology News | More News | Vending Newsletter sign up | Questions? Contact us | email press release
Call us at 1-800-956-8363 or POST YOUR COMPANY