Embed Supports Ongoing Education, Offers Scholarships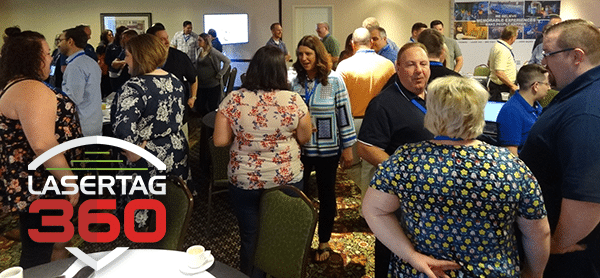 Dallas, TX – July 2017 – One of Embed's top priorities is supporting their customers' professional development. The company sponsors 19 educational conferences each year where newcomers as well as veteran FEC owners can benefit from industry experts sharing their knowledge and insights. Additionally, these events provide networking opportunities with like-minded peers that can result in collaborations and long-term relationships for ongoing support.
Currently, Embed has scholarships available for the following upcoming events. LaserTAG360 is the premier event for the laser tag industry. From lease negotiations and site design, to hiring and operational fundamentals, you'll learn everything you need to successfully add a laser tag attraction to a new or existing facility.
The next workshop is August 1-2 in Indianapolis, IN. Request a free scholarship at www.embedcard.com/lasertag360-scholarships, or learn more at www.lasertag360.com. Foundations Entertainment University provides a complete blueprint for anyone developing a new center or expanding an existing entertainment facility.
Attendees will tap into over 200 years of combined experience from the industry's top leaders to eliminate the steep learning curve and avoid costly mistakes. The next workshop is August 8-10 in Chicago, IL. Request a free scholarship at www.embedcard.com/foundations-university-scholarships, or learn more at www.foundationsuniversity.com.
Birthday University has successfully trained thousands of owners, managers, supervisors, marketing/sales and party hosts in the business of remarkable and profitable birthday party programs. The next workshop is August 23-24 in Atlanta, GA. Request a free scholarship at www.embedcard.com/birthday-university-scholarships, or learn more at www.birthdayuniversity.com. Trainertainment delivers fun training that also yields serious business results for their clients. Their proven systems have consistently helped FEC operators improve their bottom line.
The next workshop is September 14-15 in Arlington, TX. Request a free scholarship at www.embedcard.com/trainertainment-scholarships, or learn more at www.trainertainment.net.
About Embed Embed, a subsidiary of out-of-home entertainment leader Helix Leisure, provides total operating solutions for any entertainment facility, by utilizing their robust understanding of the industry which stems from over 55 years of operating experience. With offices in the USA, UAE, Singapore, and Australia, they are committed to delivering seamless and elegant user experiences for their customers, backed by class leading customer support. Embed Systems allow for admissions control, machine monitoring, cashless operation of games and attractions, retail, food and beverage sales, loyalty systems, full prize redemption management, and integrated event scheduling.
For more information, please visit www.embedcard.com.
Follow Helix Leisure on LinkedIn for more updates: https://www.linkedin.com/company/helix-leisure
---

| Home | Vending Technology News | More News | Vending Newsletter sign up | Questions? Contact us | email press releases
Also see:  | Technology Companies | Photo Booths | Kiddie Rides | Crane Games | Amusement Coin-Operated Games | Amusement Distributors |
VENDING YELLOW PAGES DIRECTORIES:
Call us at 1-800-956-8363 to POST YOUR COMPANY, or QUESTIONS?