Embed celebrates its 45th installation for Landmark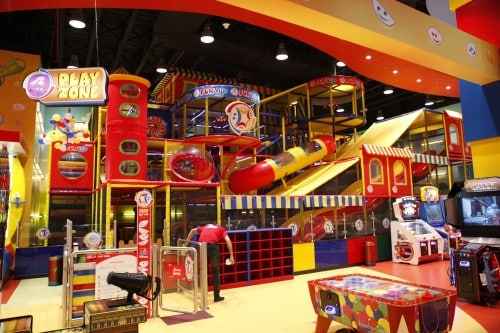 Embed, a leading provider of revenue management systems for the amusement and out of ome entertainment industry, is celebrating its 45th installation with Landmark group based out of the United Arab Emirates. Barwa City in Qatar is the 45th Landmark operated location to employ the full Embed Debit Card System for the cashless operation of games and attractions.
The Landmark Group has a strong presence as one of the largest retail conglomerates across the Middle East, Africa and the Indian Subcontinent in the categories of retail, hospitality, entertainment and mall management.
"As we move towards opening new stores and growing our business, Embed has always supported us and is growing as quickly as we are. Embed & Fun City have been partners for many years now. The Embed system is adaptive to the new emerging trends and evolving guest experience whether it be touch and tap swipers or kiosks," declared Kunal Harisinghani, Head of Marketing for Landmark Leisure.
"The Landmark group continues to set a very high standard in entertainment across the region and we at Embed are pleased to be an ongoing part of their success. We are proud of our long history with them and our continued investment in this region," said Embed's Managing Director for EMEA Rosa Tahmaseb.
About Embed
Embed, a subsidiary of out-of-home entertainment leader Helix Leisure, provides the very best in Debit Card technology with industry leading Operating Software solutions for any entertainment facility. With offices in the USA, UAE, UK, Singapore, and Australia, they are committed to delivering seamless and elegant user experiences for their customers, backed by class leading customer support. Embed Systems allow for admissions control, machine monitoring, cashless operation of games and attractions, retail, food and beverage sales, loyalty systems, full prize redemption management, and integrated event scheduling. www.embedcard.com.
Follow Helix Leisure on LinkedIn for more updates: https://www.linkedin.com/company/helixleisure
---

| Home | Vending Technology News | More News | Vending Newsletter sign up | Questions? Contact us | email press release |
Also See: Amusement Games | Redemption | FEC | Classified Ads | Home |
VENDING YELLOW PAGES DIRECTORIES:
Call us at 1-800-956-8363 to POST YOUR COMPANY, or QUESTIONS?