Embed and Player One Offer Entertainment Solutions to Hospitality Industry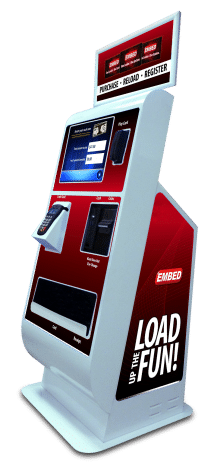 Dallas, TX, June 2018 – Embed will showcase its revenue management system at the upcoming
Hospitality Industry Technology Exposition and Conference (HITEC) June 18-20 in Houston, Texas. The
company is partnering with Player One Amusement Group to offer revenue share opportunities for
hotels, resorts, and other hospitality groups through game rooms, arcades and attractions. Embed
interfaces with many point of sales (POS) and third-party systems, allowing game cards to be sold at
different outlets throughout the property.
"We are thrilled to attend this year's HITEC Expo and look forward to working with attendees to help
them reap the benefits of providing enhanced guest experiences," says Jon Brady, Business
Development VP at P1AG. "Whether a hospitality venue is looking to outsource game room operations,
is interested in purchasing the latest equipment, or is seeking a partner to help with their amusement
and gaming needs, we offer a 'Total Solution' to help them reach their business goals."
"Hotels and resorts are looking at the excitement of video and redemption games offered in Family
Entertainment Centers, and they want to provide that same level of enjoyment to the guests at their
property," says John Keys, Strategic Account Manager with Embed. "Embed offers an unattended
solution for small to medium facilities with our emONE System, which allows guests to purchase game
cards and add more value to them. In partnership with Player One, we help properties offer their guests
a unique entertainment experience and benefit from an additional revenue stream."
HITEC is the largest technology conference for Hospitality professionals with a focus on technology
solutions for hotels and resorts. Visit Embed and Player One Amusement Group in booth #126. For
more information, visit www.embedcard.com and www.winwithp1ag.com.
About Embed
Embed, a subsidiary of out-of-home entertainment leader Helix Leisure, provides total operating solutions
for any entertainment facility, by utilizing their robust understanding of the industry which stems from
over 60 years of operating experience. With offices in the USA, UAE, Singapore, and Australia, they are
committed to delivering seamless and elegant user experiences for their customers, backed by class
leading customer support. Embed Systems allow for admissions control, machine monitoring, cashless
operation of games and attractions, retail, food and beverage sales, loyalty systems, full prize redemption
management, and integrated event scheduling. For more information, please visit www.embedcard.com.
Follow Helix Leisure on LinkedIn for more updates: https://www.linkedin.com/company/helixleisure
---

Home | Vending Technology News | More News | Vending Newsletter sign up | Questions? Contact us | email press release
Call us at 1-800-956-8363 or POST YOUR COMPANY