Denver Operation Develops I-Pad-Based Micro Market As A More Economical Solution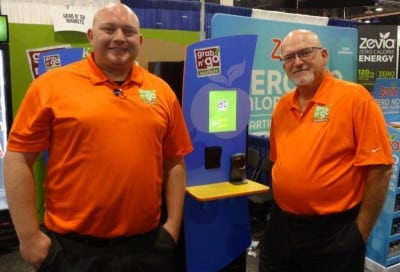 Premier Services, a refreshment services provider in Denver, Colo., wasn't satisfied with existing micro market systems. The company tested different systems after expanding into micro markets six years ago. While the micro market systems were improving, the father/son team of George and Kyle Yost came to the conclusion after two years that existing systems were not economical enough for many locations that could benefit from micro markets.
The Yosts initially tried one of the leading commercial micro markets. They immediately began looking at other options on account of the fees.
They tried another system and found the back-end software difficult to work with. "I'm sure they've made improvements, but at the time, we had a hard time with it," said Kyle Yost, sales manager.
They then tried a third system that did not have the same quality reporting system as the first system they had worked with, but it had a planogramming feature and was less expensive. They placed around 25 of these less expensive units.
A Fortuitous Meeting
Five years ago, George Yost, the company president, met Adam Arthur, who owned another micro market system. Arthur had developed a system that was cost effective and required no back-end fees. The two men worked together over the next few years to improve Arthur's system.
After Premier Service installed more than 30 of Arthur's micro markets, Arthur left his company. Yost immediately seized the opportunity to hire Arthur to create a new type of kiosk that would be even more versatile.
Premier Service ultimately created Grab N' Go Markets, a micro market solution powered with an iPad. "The footprint is tiny compared to a traditional kiosk," Kyle Yost said.
60 Units Placed

With much trial and error, and late nights, Arthur was able to develop a tablet solution that accepts not only credit cards, but also cash. Since the creation of the iPad solution, Premier Services has successfully installed and operated more than 60 Grab n' Go Markets, some in locations with as few as 100 employees.
Some of the large micro markets can cost as much as $20,000, including the cabinets, shelving, kiosk and product, Kyle Yost said. Such an investment requires at least $4,000 in monthly sales to make a profit.
With Grab N' Go Markets, the Yosts are able to target much smaller employee groups, although they can still offer large employee groups the same service.
With an investment of around $4,000 for a mounted iPad, shelving, security camera and product, the Grab n' Go Market at least doubles the sales of a traditional vending bank – generating at least $500 per week – for less upfront investment, according to Kyle Yost.
"There's no way I could install a bank of new vending machines for $4,000," he said. "It's just cheaper to do a micro market through our system."
System Relies On Cell Signal

More importantly, the Grab n' Go Market relies on a Verizon signal rather than an Internet connection. "Being on an iPad, it's either running off of the Wi-Fi the customer will provide, or it's running off the cell signal," he said.
To use the system, the customer creates a Grab n' Go Market account with their phone number and a password, then enters their credit card information. This is only done one time per account. USA Technologies Inc. serves as the credit card processor.
With the credit card attached to the account, the customer never needs their card again as they make purchases. A push of a button on the iPad lets them add funds to their account.
To make a purchase, the customer first logs into their account. The customer then takes the product from the shelf or a cooler and scans the product's bar code against the bar code scanner. They can scan multiple items to the order. They can remove items from their order by moving the item to the left on the screen.
Once their shopping card is complete, the customer touches the "pay now" button, and as long as there are funds in their account, the transaction is complete. If there are insufficient funds in the account, the software will direct the customer to a screen where they can add money using the credit card they set their account up with, or they can add cash.
All credit card transactions are 100% PCI compliant and encrypted. Each account receives a "token" from USA Technologies to send funds back and forth. No credit card or account information is stored in the iPad.
Customers Preload Their Accounts

Customers can preload $5 on their account and get charged a 25-cent swipe fee per transaction. For customers that preload $10 or more, the operator absorbs the swipe fee. "After the $10 mark, USA Technologies gives a break on the swipe fees, and it's easier for the operator to absorb it," Yost said. A customer can always load cash on their account, too, with no fees applied.
There are no "one off" purchases, Yost said, which is better for the operator since it minimizes credit card transaction fees.
"When you have all these one-off purchases, your credit card fees are going through the roof," he said.
"If somebody's buying a bag of chips for a dollar, and you're getting charged 35 cents to swipe that credit card, all your profit has just gone out the window."
The Yosts have switched some of their vending accounts to Grab n' Go Markets in addition to winning new accounts. "I almost never sell a traditional vending account anymore," Yost said. Micro markets do require security monitoring. However, "the reward will outweigh the risk," he said.
The company plans to offer Grab n' Go Markets to other operators in the near future. They displayed it at this year's National Automatic Merchandising Association OneShow in Las Vegas.
For more information visit website at www.coloradobreakrooms.com, 303-761-2500, sales@alpinecoffee.com.
---

Vending Technology News | More News | Vending Newsletter sign up | Questions? Contact us | email press release |
Also see: Software Companies | Technology Companies | Micro Markets | Cashless Vending | Distributors | Classified Ads | Home |
VENDING YELLOW PAGES DIRECTORIES:
Call us at 1-800-956-8363 to POST YOUR COMPANY, or QUESTIONS?