Crane's Merchandising Systems Launches Enhanced Alert Management Feature for Cashless Portal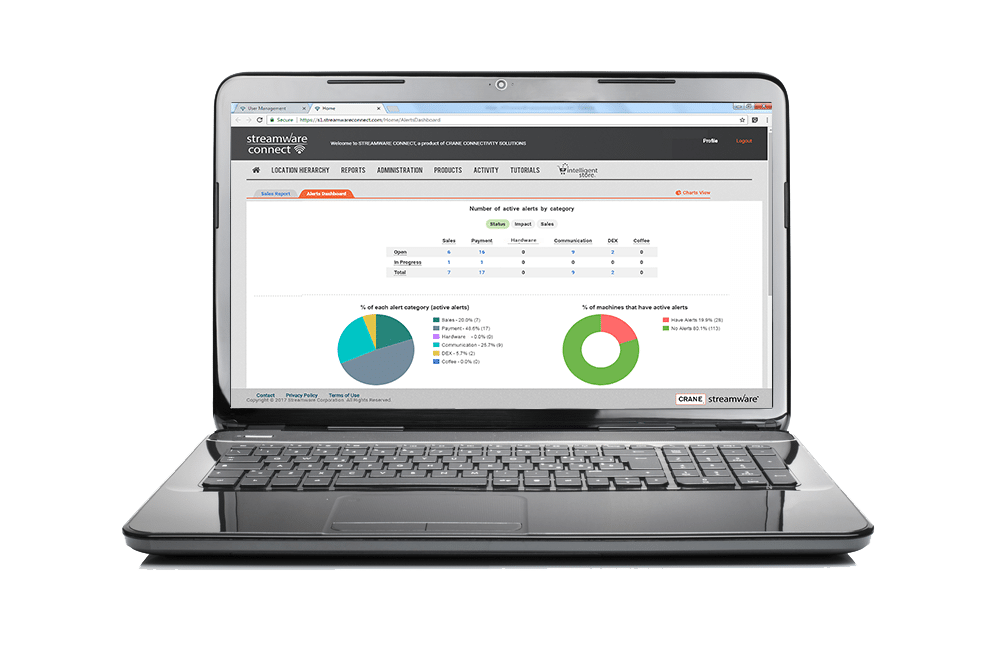 WILLISTON, S.C. – August 1, 2017 – Crane Merchandising Systems, a Crane Co. Company and the leading global manufacturer of innovative solutions for vending machines, cashless systems, software, and wireless communications, today announced the launch of an enhanced alert management feature within its cashless portal that gives customers greater insight into machine and device health.
Alerts provide Crane Cashless operators with near real time information concerning the activity of their machines, delivering notifications of performance and sales issues. The portal alerts incorporate machine performance metrics that enable operators to focus on the most important issues in high utilization machines.
"This alert feature, which is free for Crane Cashless customers, allows operators to see what's going on with their machines, understand the history and status of the alert, and take the necessary actions to resolve issues," said Patrick Richards, Product Manager for Crane Connectivity Solutions. "This enhancement to our portal continues our commitment to providing more flexibility and choice to our cashless customers."
The portal now features an alert dashboard that give operators a quick overview of network health and the ability to drill into specific performance areas such as sales, device communication, DEX, payment systems, hardware, and coffee.

"This is a significant set of tools for operators, giving them the flexibility to manage their connected networks more efficiently," Richards said. "Key to the resolution of many issues is the knowledge that a machine is not online and communicating, and this system provides that information simply and quickly."
About Crane Merchandising Systems
Crane Merchandising Systems designs and manufactures a diverse, yet integrated portfolio of automatic merchandising equipment across multiple verticals, including hot and cold beverage, snack, and food. It also offers other vending solutions including cashless processing, payment devices, vending management software and wireless communication technology. Its legacy of brands (Automatic Products®, Dixie Narco®, GPL®, National Vendors™, Stentorfield™ and Streamware®) enables Crane to provide customers a complete, cross-platform solution while maintaining innovation, quality and service.
About Crane Connectivity Solutions
Crane Connectivity Solutions (CCS), a Crane Co. company, is a leader in interactive technology, delivering comprehensive solutions in wireless connectivity, enterprise software, digital advertisement, mobile applications and electronic payments. Leveraging the power of Crane Payment Innovations and Crane Merchandising Systems, CCS connects millions of unattended machines with consumers worldwide. Crane Co. is a diversified manufacturer of engineered industrial products. Crane Co. is traded on the New York Stock Exchange (NYSE:CR). www.cranems.com
---

| Home | Vending Technology News | More News | Vending Newsletter sign up | Questions? Contact us | email press release
Also see: Software Companies | Technology Companies | Micro Markets | Vending Machine Manufacturers | Machine Distributors |
VENDING YELLOW PAGES DIRECTORIES:
Call us at 1-800-956-8363 to POST YOUR COMPANY, or QUESTIONS?