Crane Merchandising Systems to Preview MEDIA2 User Experience for Vending at 2017 NAMA OneShow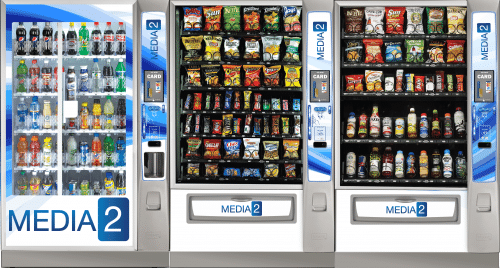 WILLISTON, S.C., April 18, 2017 – Vending Operators will get a preview of MEDIA2, the new user experience from Crane Merchandising Systems, a Crane Co. company, at the NAMA OneShow in Las Vegas, April 19-21. Crane Merchandising Systems is the leading global manufacturer of innovative solutions for vending machines, cashless systems, software services and wireless communications. "
The vending machine industry is rapidly changing and successful operators need to offer a new level of consumer engagement to strengthen demand and increase profitability," said Steve Turner, Vice President and General Manager of Cold Drink, Snack and Food. "MEDIA2, with its full motion video, larger screen option and suggestive selling feature will attract more consumers and take same-store sales to a higher level."
The new intuitive user interface, that will be launched later this year, is designed to influence consumer behavior with suggestive selling through a patent-pending recommendation engine. Operators can highlight specific products by placing them into the "Featured Products" category which is ideal for exposing new product to consumers and drive trial. The application enables the operator to specify products or let MEDIA2 make the suggestion through different algorithms. In addition to new products, the suggestive selling feature can be used for low movers, complementary products or just random selections.
"Crane's MEDIA product attracts more customers and delivers consistently higher sales by helping consumers make product choices in a simple, fun way," Turner said. "In fact, store sales are more than 40 percent higher than with traditional cashless machines."
As an added benefit, MEDIA2 takes Crane's innovative digital advertising experience to a new height with its full motion video feature and sponsored product suggestions. As with other MEDIA products, vending operators have the opportunity to earn new incremental revenue by signing up to participate in over-the-air managed advertising campaigns. Crane's advertising program has grown exponentially over the last 12 months, having delivered an industry-leading 5 billion impressions across more than 10,000 screens in the United States alone. Brand clients to date include the Hershey Company, Mastercard, Mondelez Inc., and the Kellogg Company among others.
As with all Crane MEDIA products, Crane's Intelligent Store Remote Services Suite is also available with MEDIA2. It lets operators manage their machines remotely, keeping content fresh and relevant for customers.
"Operators attending the show can receive a personalized demonstration of our breakthrough development of two-way communication capabilities," Turner said. "We're not just drawing information from the POS like everyone else, we're delivering powerful capabilities like pricing changes, promotions and advertising to grow top line revenues."
All MEDIA products come with fully integrated payment systems, accepting credit cards, mobile payments, campus cards, and loyalty pay – everything in your customer's wallet which makes purchasing products easy and convenient.
About Crane Merchandising Systems
Crane Merchandising Systems is a Crane Co. company which designs and manufactures a diverse, yet integrated portfolio of automatic merchandising equipment across multiple verticals, including hot and cold beverage, snack, and food. It also offers other vending solutions including cashless processing, payment devices, vending management software and wireless communication technology. Its legacy of brands (Automatic Products®, Dixie Narco®, GPL®, National Vendors™, Stentorfield™ and Streamware®) enables Crane to provide customers a complete, cross-platform solution while maintaining innovation, quality and service. Crane Co. is a diversified manufacturer of engineered industrial products. Crane Co. is traded on the New York Stock Exchange (NYSE:CR).
www.cranems.com
---

Vending Technology News | More News | Vending Newsletter sign up | Questions? Contact us | email press release |
Also see: Software Companies | Technology Companies | Micro Markets | Cashless Vending | Distributors | Classified Ads | Home |
VENDING YELLOW PAGES DIRECTORIES:
Call us at 1-800-956-8363 to POST YOUR COMPANY, or QUESTIONS?