Crane Merchandising Systems To Preview a Full Range of New Products at 2018 NAMA Show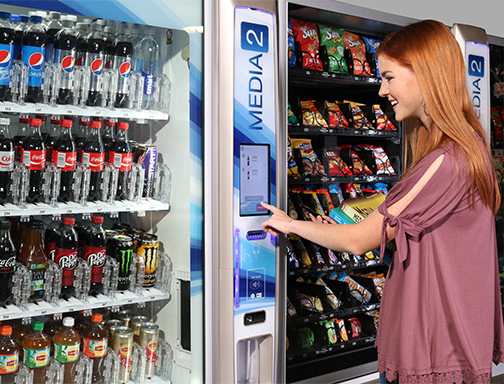 WILLISTON, S.C., March 15, 2018 – Crane Merchandising Systems, a Crane Co. company and the leading global manufacturer of innovative solutions for vending, will unveil its newest vending equipment, enterprise software, and cashless products during the 2018 NAMA Show at the Las Vegas Convention Center, March 21-23.
"At Crane, we believe in innovation that drives results for vending operators. At the NAMA Show, we will display the most complete set of vending solutions in the industry, all designed to help our customers achieve greater business success," said Brad Tedder, President of Crane Merchandising Systems. "The show also gives us a great opportunity to stay in touch with our customers and learn about their challenges and future needs."
Products being demonstrated at Crane's booth 200 include:
• Crane Cashless: The fastest growing cashless service in the industry will demonstrate its commitment to flexibility and choice for vending operators with its newest connectivity hardware platform. Crane's next generation telemeter saves operator's time with an easy-to-install Bluetooth-enabled device that offers best-inclass 4G LTE connectivity and future scalability.
• Crane's innovative and highly-successful digital advertising program offers vending operators new ways to engage with consumers, while earning incremental revenue in the form of both advertising revenue and higher advertised product sales. In the last two years, Crane's program is the only one in the industry to have delivered more than 40 campaigns for major product brands with almost 25 billionimpressions across more than 16,000 screens in the United States.
• MEDIA2: The newly designed user experience for snack, food, and cold drink machines builds on the success of tens of thousands of MEDIA machine sold since 2012. It features a redesigned intuitive user interface with suggestive selling, fullmotion video, and highly engaging advertising experiences designed to significantly
increase same-store sales. MEDIA is designed to influence consumer purchase behavior and drive sales more than 25 percent over all other vending equipment.
• COTI is Crane's new free standing coffee machine that has proven 33 percent sales lift in Europe and earned the Machine of The Year Award from the European Vending Association. COTI captivates consumer interest with the 21" touch user interface, full motion video, and stylish design. Combined with its barista-quality coffee menu, COTI offers vending operators new ways to increase same stores sales, win new locations and drive consumer satisfaction.
• simplifi is Crane's next generation, Cloud and mobile enterprise software platform designed for operators to manage their business on the go. By automating operations, vending operators will achieve a higher degree of inventory accuracy and route efficiency, saving time and enabling business growth.
Crane will hold an In-Booth Reception on Wednesday, March 21, from 4:15 p.m. – 6:15 p.m., and on Thursday, March 22, from 2:45 – 4:45 p.m., to say thank you to its valued customers and partners. A key addition to the event this year is a choice of specialty coffee drinks on Wednesday.
About Crane Merchandising Systems
Crane Co. is a diversified manufacturer of engineered industrial products. Crane Co. is traded on the New York Stock Exchange (NYSE:CR). |
One of its segments, Crane Merchandising Systems, designs and manufactures a diverse, yet integrated portfolio of automatic merchandising equipment across multiple verticals, including hot and cold beverage, snack, and food. It also offers other vending solutions including cashless processing, payment devices, vending management software and wireless communication technology. Its legacy of brands (Automatic Products®, Dixie Narco®, GPL®, National Vendors™, Stentorfield™ and Streamware®) enables Crane to provide customers a complete, cross-platform solution while maintaining innovation, quality and service.
For more information visit: www.cranems.com
---

| Home | Vending Technology News | More News | Vending Newsletter sign up | Questions? Contact us | email press release
Also see: Software Companies | Technology Companies | Micro Markets | Distributors | Machine Manufacturers | Vending Companies USA
VENDING YELLOW PAGES DIRECTORIES:
Call us at 1-800-956-8363 to POST YOUR COMPANY, Any QUESTIONS?