Crane Merchandising Systems To Display Full Range of Industry's Best End-To-End Solutions at 2017 NAMA OneShow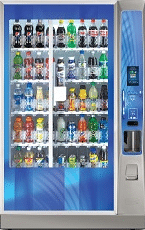 WILLISTON, S.C., April 11, 2017 – Crane Merchandising Systems, a Crane Co. company and the leading global manufacturer of innovative solutions for vending machines, cashless systems, software services and wireless communications, will display the most complete endto-end vending solutions in the industry at the NAMA OneShow in Las Vegas, April 19-21.
"At Crane, we recognize the criticality of delivering innovative solutions that drive value for operators, and the NAMA OneShow is the perfect opportunity for us to display those efforts," said Brad Tedder, President of Crane Merchandising Systems. "We are excited to show our customers the broad range of solutions we have been working on, and to understand more of their business needs, now and into the future."
• At this year's show, Crane will preview its newest user experience, MEDIA2, which offers full motion video, a larger screen option and a patented suggestive selling feature. MEDIA2 is designed to attract more consumers and increase same-store sales.
• Crane Cashless is growing as fast as any service in the industry, offering flexibility and choice for vending operators with a full range of options in radios, cashless readers, cellular networks, payment processors and mobile payment. Crane will also preview the Navigator Touch retrofit screen at the show and demonstrate how operators can deploy the screen with fielded Navigator devices and add revenue with digital advertising.
• Crane's Intelligent Store Remote Services offer the most complete suite of two-way remote machine management capabilities in the marketplace. Coupled with our MEDIA machine platform, Crane enables operators to remotely manage their machines planograms, change prices, promote products and display nutritional information.
• Crane's innovative digital advertising experience gives vending operators the opportunity to earn new incremental revenue by signing up to participate in over-theair managed advertising campaigns. In the past year, Crane has delivered an industryleading 5 billion impressions across more than 10,000 screens in the United States alone.
• Mobile applications are critical for driving efficiency and effectiveness for in-field operations. At the NAMA OneShow, Crane will demonstrate its full suite of mobile platforms including the Crane Cashless App, VendMAX Service Tech Mobile App, and the newest app, VendMAX Route Driver Mobile.
• Crane will hold an In-Booth Reception at the show Wednesday the 19th and Thursday the 20th to say thank you to its valued customers and partners. The receptions will be Wednesday from 4:15 p.m. – 6:15 p.m. and Thursday from 2:45 p.m. – 4:45 p.m. Additionally, the company will have Coffee with Crane on Thursday morning from 10:00 to 11:00 a.m. to highlight the high quality coffee of the VOCE machine. Donuts and pastries will be provided. About Crane Merchandising Systems Crane Co. is a diversified manufacturer of engineered industrial products. Crane Co. is traded on the New York Stock Exchange (NYSE:CR).
One of its segments, Crane Merchandising Systems, designs and manufactures a diverse, yet integrated portfolio of automatic merchandising equipment across multiple verticals, including hot and cold beverage, snack, and food. It also offers other vending solutions including cashless processing, payment devices, vending management software and wireless communication technology. Its legacy of brands (Automatic Products®, Dixie Narco®, GPL®, National Vendors™, Stentorfield™ and Streamware®) enables Crane to provide customers a complete, cross-platform solution while maintaining innovation, quality and service. www.cranems.com
---

Vending Technology News | More News | Vending Newsletter sign up | Questions? Contact us | email press release |
Also see: Software Companies | Technology Companies | Micro Markets | Cashless Vending | Distributors | Classified Ads | Home |
VENDING YELLOW PAGES DIRECTORIES:
Call us at 1-800-956-8363 to POST YOUR COMPANY, or QUESTIONS?