Crane Merchandising Systems Launches CORA, Next Generation Telemeter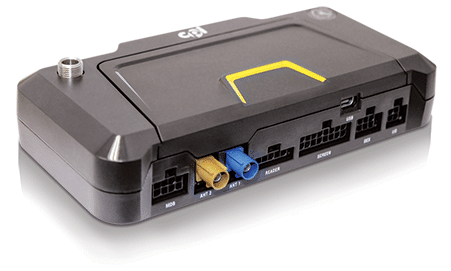 WILLISTON, S.C., January 24, 2019 – Crane Merchandising Systems, a Crane Co. company and the leading global manufacturer of innovative solutions for vending equipment, enterprise software, cashless systems, and wireless communications, announced today the launch of CORA, the industry's most advanced telemeter.
CORA enriches the Crane Cashless portfolio with a number of performance enhancing features, including a custom designed 4G LTE antenna, integrated Bluetooth connectivity, and seamless compatibility with all Crane-connected readers and touch screens. Operators purchasing CORA with Crane Cashless will also have the option to enable Bluetooth mobile payment through PayRange with no additional hardware.
Connectivity Solved. CORA's compact, sleek design makes for an intuitive and easy installation process. High-powered magnets, simplified cabling, and cable-locking connectors eliminate the need for screws, zip ties and Velcro while a state-of-the-art single 4G LTE antenna exceeds carriers' performance specifications.
"Cashless installs are much quicker with CORA because of the magnets, cabling and connectors," said Ricky Norris with Refreshments, Inc. "CORA comes online faster and I've noticed a significant improvement in signal strength."
CORA's standard antenna outperforms competing products by 30%, and operators using CORA will appreciate its stronger signal strength and improved connectivity – especially for machines in traditionally hard-to-connect locations. CORA is available today on the Verizon network, with AT&T support expected in 2019.
Efficiency Delivered. "CORA was designed with efficiency in mind," said Patrick Richards, Electronic Payments Product Manager for Crane Connectivity Solutions. "By focusing on reliable connectivity, ease of installation, and heightened security features, CORA keeps machines running securely and at peak performance. Additionally, as their business needs change and grow, operators always have the option of including a Crane reader or touchscreen to their device," adds Richards.
Operators using the simplifiMOBILE app can leverage CORA's Bluetooth Low Energy (BLE) feature to streamline driver and technician interactions with machines. "Crane recognizes the value of having BLE to enhance device performance and drive operational efficiencies. We are especially pleased to be introducing it to the vending market through CORA and will continue investing in it as we develop more next-generation products," Richards said.
Security Assured. CORA employs a number of differentiated security enhancements, including tamper-resistant hardware features typically found exclusively in the world's most secure payment terminals, and both superior server and device protections. Crane's focus on security gives operators peace of mind knowing their customer's information is protected at all times with their devices safe, secure, and always operating as desired.
About Crane Merchandising Systems
Crane Co. is a diversified manufacturer of engineered industrial products. Crane Co. is traded on the New York Stock Exchange (NYSE:CR). One of its segments, Crane Merchandising Systems, designs and manufactures a diverse, yet
integrated portfolio of automatic merchandising equipment across multiple verticals, including hot and cold beverage, snack, and food. It also offers other vending solutions including cashless processing, payment devices, vending management software and wireless communication technology. Its legacy of brands (Automatic Products®, Dixie Narco®, GPL®, National Vendors™, Stentorfield™ and Streamware®) enables Crane to provide customers a complete, cross-platform solution while maintaining innovation, quality and service.
For more information visit http://cranems.com/cora-telemeter
---

Home | Vending Technology News | More News | Vending Newsletter sign up | Questions? Contact us | email press release
Call us at 1-800-956-8363 or POST YOUR COMPANY