CRANE MERCHANDISING SYSTEMS COLLABORATES WITH NAMA AND GENERAL MILLS
CRANE MERCHANDISING SYSTEMS COLLABORATES WITH NAMA AND GENERAL MILLS TO RAISE AWARENESS FOR OPERATION HOMEFRONT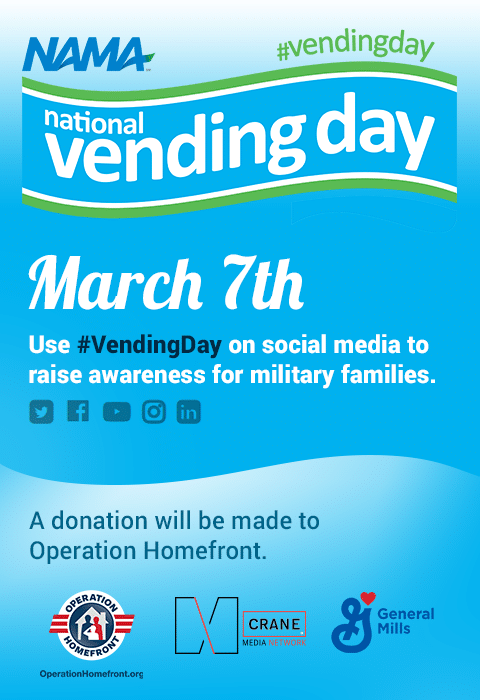 WILLISTON, S.C. – March 20, 2019 – Crane Merchandising Systems, a Crane Co. company and the leading global manufacturer of innovative solutions for vending equipment, enterprise software, cashless systems, and wireless communications, collaborated with NAMA and General Mills in honor of National Vending Day to raise awareness for Operation Homefront, a nonprofit organization that supports military families.   
The three day campaign ran on over 30,000 screens nationwide and featured a message encouraging consumers to share their positive vending experiences on social media using #VendingDay.  More than 2.1 million people engaged with the message and their social media activity drove awareness and thousands of dollars in donations to Operation Homefront. 
"As a team, we were thrilled to participate in the inaugural National Vending Day, driven by NAMA, not just to support our channel, but this worthwhile cause," said Kirn Reis, Vice President and General Manager of Cold Drink, Snack Food for Crane Merchandising Systems.  "We look forward to continuing to expand our positive impact on the channel with the power of digital media." 
Picture of AD 
The Crane Media Network manages advertising campaigns over the air on more than 35,000 screens, helping vending operators and brands grow consumer engagement and sales. Crane's advertising program has delivered significant results over the past few years and offers the ability to influence more than 12 million consumers monthly in the United States alone. To learn more about the Crane Media Network visit: http://www.cranemedianet.com/ 
National Vending Day showcased the U.S. Convenience Service industry – which includes vending – and its total economic impact of nearly $25 billion. The U.S. Convenience Services industry is represented in every community across the United States through traditional vending and micro markets – unattended retail – as well as office coffee and pantry services. The industry, providing 140,000 good paying jobs with $7.21 billion in wages, pays $3.5 billion taxes at every level of government. From manufacturing to small-drop distribution, the industry meets the needs of consumers everywhere they are. To learn more about National Vending Day here: https://www.namanow.org/convenience-services/2019-national-vending-day/ 
"We appreciate and value the support of Crane Merchandising Systems and General Mills to fund efforts enabling an opportunity to give back through Operation Homefront by assembling backpacks for military children at the 2019 Fly-In and Advocacy Summit.  Vending Day overall is a win/win with the industry coming together to shine a light on the channel, with the added benefit to military families through this fantastic organization," said Eric Dell, NAMA's Senior Vice President of External Affairs. To learn more about Operation Homefront visit: https://www.operationhomefront.org/ 
About Crane Merchandising Systems 
Crane Co. is a diversified manufacturer of engineered industrial products. Crane Co. is traded on the New York Stock Exchange (NYSE:CR). 
One of its segments, Crane Merchandising Systems, designs and manufactures a diverse, yet integrated portfolio of automatic merchandising equipment across multiple verticals, including hot and cold beverage, snack, and food. It also offers other vending solutions including cashless processing, payment devices, vending management software and wireless communication technology. Its legacy of brands (Automatic Products®, Dixie Narco®, GPL®, National Vendors™, Stentorfield™ and Streamware®) enables Crane to provide customers a complete, cross-platform solution while maintaining innovation, quality and service.  
For more information visit www.cranems.com 
---

Vending Technology News | More News | Vending Newsletter sign up | Questions? Contact us | email press release
Also see: Software Companies | Technology Companies | Micro Markets | Cashless Vending | Distributors | Classified Ads | Routes for sale | Vending Companies USA | Home |
VENDING YELLOW PAGES DIRECTORIES:
Call us at 1-800-956-8363, POST YOUR COMPANY