China International Vending & OCS Showcase (Beijing) 2018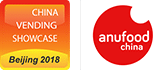 November 21 – 23, 2018 China National Convention Center (CNCC), Beijing, China – At the ANUFOOD China 2018 – powered by Anuga. The First and Only Vending Show in Association with the Food Expo in China. www.TheVendingShow.com
China is one of the most promising, developing markets around the globe for the vending and OCS industry. In recent years, with the increasing popularity and widespread applications of Internet, big data, cloud, O2O (online-to-offline), IoT (Internet of things) and AI (artificial intelligence) technologies, China's vending and OCS industry sees unprecedented, rapid growth opportunities. According to market survey, the number of beverage and snack vending machines located on the market has increased by 80% from nearly 100,000 units in 2014 up to more than 180,000 units in 2016. Undoubtedly, the market growth potential is huge for the Chinese vending and OCS industry.
Backed by vigorous advancement of the Chinese vending industry, the 3rd China International Vending & OCS Showcase (Beijing) 2018 will be held as a special zone at the ANUFOOD China 2018 on November 21-23, 2018 at China National Convention Center in Beijing, China. The organizer of vending showcase, WeShow Events, is committed to the applications and development of V-commerce (vending machine commerce) in the food retail and hospitality industries, thus creating the first and only vending show in association with the food expo in China. The China Vending Showcase under one roof with the ANUFOOD China 2018, the largest food expo in north China, is aimed at establishing and intensifying direct association between the vending industry and the food retail and hospitality industries to realize win-win outcomes for all the participants under one roof!
【Organizers】
Sponsored by: Koelnmesse Co., Ltd.
China Chamber of Commerce of Foodstuffs and Native Produce (CFNA)
Managed by: Shanghai WeShow Events Ltd.
Supported by: National Automatic Merchandising Association (NAMA)
European Vending Association (EVA)
Spanish Vending Association (ANEDA)
Japan Vending System Manufacturers Association (JVMA)
Platinum Media Partner: Vending Report, Germany
【Show Figures】
Show dates: November 21-23, 2018 (Wednesday through Friday)
Venue: China National Convention Center (CNCC)
No.7, Tianchen East Road, Chaoyang District, Beijing, China
Exhibition floor area: 36,000+ sqm, including vending & OCS (office coffee, tea and water services), beverages, snacks & sweets, dairy, fine food, fruits & vegetables, meats, and foodservice pavilions, etc.
Estimated number of exhibitors: 700+ companies covering full supply chains of the vending, OCS, food retail and hospitality industries
Estimated number of visitors: 26,000+ buyers and professionals, including 5,000+ international buyers and professionals from 40+ countries around the world
【Scope of Exhibits】
Vending Machines:
Beverage and snack vending machines, coffee vending machines, pizza vending machines, ice cream vending machines, freshly-squeezed orange juice vending machine, fast food vending machines, and specialty vending machines for branded products, etc.
Smart Lockers:
Smart lockers for fresh fruits and vegetables, smart lockers for micro markets; refrigerated lockers for fresh and frozen food, grocery click and collect lockers, etc.
Office Coffee, Tea & Water Services:
Bean-to-cup coffee machines, espresso coffee machines, single-serve coffee machines, K-cup coffee makers, drip coffee makers; coffee beans, ground coffee, coffee capsules and pots, drip coffee, instant coffee, creamers, sugar and sweeteners, chocolate, milk and fruit ingredients; filter paper, cups, and packaging materials; water coolers and dispensers, and water filtration systems, etc.
Payment Systems & Hi-tech:
Coin mechanisms, bill validators, credit and debit card readers, cashless payment systems, contactless payment systems, mobile payment systems, barcode readers & systems; computers, software and data processing, telemetry, remote monitoring systems; new applications of IoT (Internet of Things) and AI (artificial intelligence).
Parts & Accessories:
Machine cabinets and enclosures, sheet metaling; touch screens, digital signage, refrigeration compressors, heating ovens, pumps and valves, micro motors, spirals, harness, locks/security systems, alarm systems, lighting, key pads, and switches, etc.
Micro Markets & Unattended Retail Solutions:
Micro markets; unattended mini convenience stores; new retail solutions for cashier-free, self-checkout; self-checkout kiosks/terminals.
【Participation Fees】
Space only (Min. 24 sqm): EUR260/per sqm
Space with Shell Scheme Package (Min. 9 sqm): EUR310/per sqm
Space with Shell Scheme Premium Package (Min. 18 sqm): EUR340/per sqm
Note: Each 9-sq.m. standard shell scheme package includes: 3-sided wall partitions, 1 bilingual company fascia board, 1 table showcase, 1 round table, 3 leather chairs, 2 spotlights, 1 power socket, 1 wastepaper basket, 3 flat shelves, and fully-floored carpet, etc.
【Conference】
The 3rd Worldwide Vending Forum (Beijing) 2018 will be held concurrently for the purpose of sharing of successful experience, exploring innovative technologies, and learning about the new trends of the industry. The forum mainly includes the industry leaders' keynote speeches, specialists' seminars, and roundtable meetings between Chinese and international leaders, etc. Speakers are currently underway invitation. Welcome industry leaders and technology experts from all over the world to apply for a presentation at the forum by email to the Organizer in advance. More detailed information is available upon request.
【Contact】
Shanghai WeShow Events Ltd.
Add: Rm. 522, 5/F, Building A, Gate 8, NECC,1988 Zhuguang Road, Shanghai, 201702, China
Phone: +86-21-67000301, 37793743
Fax: +86-21-37793843
Email: alexchen@vendingshow.com; info@vendingshow.com
Website: www.vendingshow.com
Facebook: www.facebook.com/Chinavendingshow/
Twitter: www.twitter.com/vendingshow/
LinkedIn: www.linkedin.com/company/china-vending-show/
---

Vending Technology News | More News | Vending Newsletter sign up | Questions? Contact us | emai press release
Also see: Software Companies | Technology Companies | Micro Markets | Cashless Vending | Distributors | Classified Ads | Home |
VENDING YELLOW PAGES DIRECTORIES:
Call us at 1-800-956-8363, POST YOUR COMPANY