Breathlytics, Introducing A Breathalyzer Kiosk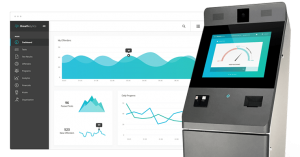 Breathlytics has introduced a breathalyzer kiosk designed to remove the manual labor required to administer breathalyzers, according to the company's website. The kiosk uses biometrics to ensure that the breath analysis matches the specific user.
A fingerprint scan confirms the identity of users, saving time by logging them in within seconds. The kiosk also automatically confirms their identity using facial recognition.
To prevent the user from having someone else take the test after they have logged into the system, a camera records the entire process.
Participants can pay at the kiosk using a credit card or through an online payment terminal using PayPal, bank transfer or a credit card. Users can add funds to their account so they won't need to swipe their card during each visit to the kiosk.
The kiosk instructs the user to blow into a disposable straw for several seconds. A pressure gauge provides real-time feedback. The breathalyzer also has a pressure sensor to detect when air flow starts to decline prior to taking the sample breath.
Once the score is processed, the agency or department sponsoring the test can provide as much feedback on the display screen as it wishes.
The kiosk uses the Integrated Biometrics Watson Mini fingerprint sensor which can scans two fingers at a time and meets FBI requirements, according to findbiometrics.com.
For more information visit https://www.breathalytics.co/, or Call 651-340-6592.
---

| Home | Vending Technology News | More News | Vending Newsletter sign up | Questions? Contact us | email press release
Also see: Software Companies | Technology Companies | Micro Markets | Distributors | Machine Manufacturers | Vending Companies USA
VENDING YELLOW PAGES DIRECTORIES:
Call us at 1-800-956-8363 or POST YOUR COMPANY