Betson Signs New Master Distributor Agreement With OKRA/Goldfinger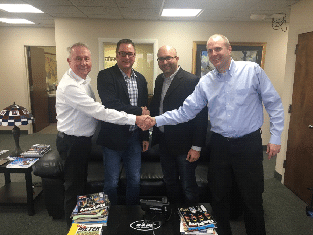 May 17, 2017 (Carlstadt, NJ) – Betson Enterprises, A Division of H. Betti Industries, Inc. is pleased to announce they have signed a master distributor agreement with OKRA/Goldfinger-a company that makes LED LCD Touchscreen Monitors.
Under the terms of this agreement, Betson is now the master distributor for OKRA/Goldfinger in the United States. Customers looking to purchase OKRA/Goldfinger products can now contact Betson to obtain them.
"We're thrilled about this partnership, and we're excited to grow the sales domestically for Goldfinger," said Richard Zayas-Bazan, Vice President of Betson Imperial Parts & Service. "Betson's sales and marketing horsepower combined with Goldfinger's innovative product offerings will make for a great partnership."
"This partnership will provide a worldwide outlet for our products," added Marshall Hartmann, Vice President of Sales at Goldfinger, Inc. "It is a perfect fit for a growing manufacturer. We look forward to this relationship with such an established and strong company."
About Betson Enterprises
Founded in 1934, Betson is today's leader in providing profitable solutions to the location-based entertainment industry. Our comprehensive product line includes amusement games, vending equipment, audio visual, parts, and billiards. Through our nationwide network of 16 offices, Betson offers client specific consultative solutions for the design, installation, service, and exporting of equipment. We offer competitive interest rates for leasing and financing, as well as deferred payments through our private in-house lending company. Betson has been the recipient of the American Amusement Manufacturer Association's "Distributor of the Year" award for the past 5 out of 7 years. Betson Enterprises is a division of H. Betti Industries, Inc. and is headquartered in Carlstadt, New Jersey.
For more information, please visit www.betson.com
Follow us on LinkedIn: https://www.linkedin.com/company/betson-enterprises
About OKRA/Goldfinger
Three brothers came together in 2009 to combine their expertise and grow a healthy business. At the request of customers who needed a quality touchscreen monitor at an affordable price, they began designing and developing Goldfinger monitors. They added features such as LED backlighting based on the input of customers across various industries.
For more information, please visit www.goldfingermonitors.com/
Kevin Fritz, (Vice President of Financial Services at H. Betti Industries Inc.) and Richard Zayas-Bazan (Vice President of Betson Imperial Parts & Service) shook hands with Daniel Hartmann and Marshall Hartmann of OKRA/Goldfinger on the partnership.
---

| Home | Vending Technology News | More News | Vending Newsletter sign up | Questions? Contact us | email press releases
Also see:  | Technology Companies | Photo Booths | Kiddie Rides | Crane Games | Amusement Coin-Operated Games | Amusement Distributors |
VENDING YELLOW PAGES DIRECTORIES:
Call us at 1-800-956-8363 to POST YOUR COMPANY, or QUESTIONS?