BANDAI NAMCO Named Exclusive Distributor for Embed Products in UK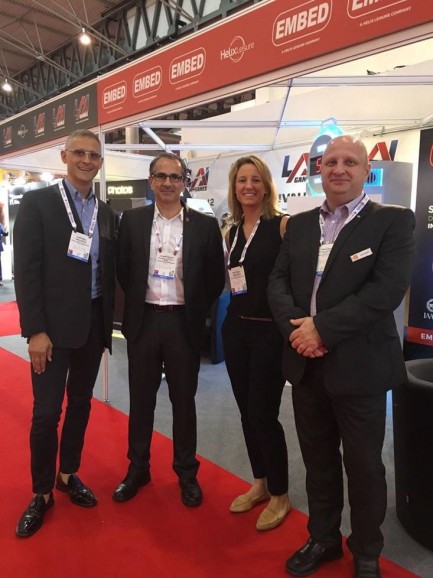 Bath, UK, October 2016 –Embed signs an exclusive agreement with BANDAI NAMCO Amusement  Europe Ltd to distribute Embed products in the UK and Ireland. The agreement expands on the longstanding relationship between the two companies where BANDAI NAMCO has distributed Embed's standalone Redemption Pro solution, and now grows to exclusively distribute the full range of Embed products.
Based in Japan, parent company BANDAI NAMCO Holdings Inc. was formed in September 2005 to incorporate NAMCO Limited and BANDAI Co. Ltd. The group is developing operations in a wide range of fields, including toys, amusement facilities, arcade machines, video games software, network services and visual products. The group makes full use of this broad range of businesses as it strives to open up new possibilities and achieve further growth.
"BANDAI NAMCO is one of the most prestigious names within the amusement industry, and we look forward to leveraging their experience and expertise in these regions to successfully deliver our growing range of products." affirmed Embed's Mirry Glavan, Managing Director of Europe, Middle East & Africa.
"We are thrilled to be the exclusive distributor of the entire range of Embed products in the UK and Ireland," said Steve Short, Sales Manager BANDAI NAMCO Amusement Europe Ltd. "We have already worked together successfully on the distribution of the Redemption Pro Solution and look forward to sharing the benefits of the rest of the product range with our customers in this region."
Andrea Bisi, Helix Director of International Business Development added "We are excited for the opportunity to partner with BANDAI NAMCO that has an incredibly strong presence in UK and Europe, a passionate team, perfect understanding of the industry and dedicated infrastructure to support all the different aspects involved in the sales and support of EMBED product range. I am personally looking forward to work closely with them, and assist more and more operators to take advantage of the innovative solutions EMBED is offering."
To find out more please contact Steve Short at 0208 324 6212 or see the BANDAI NAMCO website for full contact details www.bandainamco-am.co.uk.
About Embed
Embed provides total operating solutions for any entertainment facility, by utilizing their robust understanding of the industry which stems from over 55 years of operating experience. With offices in the USA, UAE, UK, Singapore, and Australia, they are committed to delivering seamless and elegant user experiences for their customers, backed by class leading customer support. Embed Systems allow for admissions control, machine monitoring, cashless operation of games and attractions, retail, food and beverage sales, loyalty systems, full prize redemption management, and integrated event scheduling.
For more information, please visit www.embedcard.com
---

| Home | Vending Technology News | More News | Vending Newsletter sign up | Questions? Contact us | email press releases
Also see:  | Technology Companies | Photo Booths | Kiddie Rides | Crane Games |
VENDING YELLOW PAGES DIRECTORIES:
Call us at 1-800-956-8363 to POST YOUR COMPANY, or QUESTIONS?