Banana's Fun Park Expands with The Locker Network

Dallas, TX, July 2017 – The Locker Network continues its expansion into waterparks with a new installation at the Coconut Cove mini-waterpark at Banana's Fun Park in Grand Junction, Colorado. The new attraction has 150 keyless, electronic lockers in a mix of family and standard sizes, giving guests a secure alternative to free cubbies that were previously offered at the park. The lockers were installed free of charge on a revenue share plan and provide Banana's Fun Park's owners ongoing revenue while The Locker Network takes care of day to day operation and management of the lockers.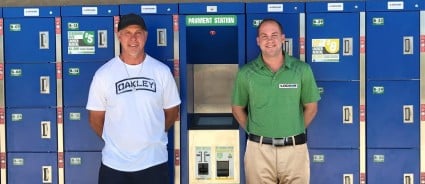 Banana's Fun Park offers multiple family attractions, including go-karts for both experienced drivers and rookies, miniature golf, an inflatable playland, bumper boats, laser tag, a 12,000-square foot arcade, and a café. With the addition of Coconut Cove, guests can enjoy a multi-level "aqua play center" featuring a 10,000-gallon tipping bucket.
Chris Burns, co-owner of Banana's Fun Park said, "We contacted the Locker Network to assist us in providing much needed locker space for our new water attraction. The lockers installed look great, are easy to operate, and immediately began to generate revenue to our park even prior to the new attraction opening. A very worthwhile investment indeed."
Marshall Ashdown, Senior VP for The Locker Network said, "We worked closely with Bananas Fun Park to provide a custom keyless locker configuration for their new expansion. Guests love the simple to use, secure lockers and location staff have minimal involvement, allowing them to focus on their core business of providing fun." For more information, visit www.bananasfunpark.com.
About The Locker Network
The Locker Network, a subsidiary of Helix Leisure, is a leading manufacturer and supplier of advanced keyless networked electronic locker systems to leisure and entertainment facilities worldwide. The Locker Network draws on a legacy of 55 years of experience in the entertainment and game industry. The Locker Network is chosen for their outstanding reliability, ease of use, high levels of security and comprehensive support and monitoring. Incorporating the latest touch-screen technology, multi-payment and multilanguage options and secure access control, your guests can rent a locker easily and quickly. The Locker Network will help you to determine an optimum locker configuration and revenue model to suit the needs of your location. Once installed, the exceptional durability and performance of the lockers means very minimal to no staff supervision is required, allowing you to focus on your core business.
For more information, please visit www.thelockernetwork.com.
Follow Helix Leisure on LinkedIn for more updates: https://www.linkedin.com/company/helix-leisure
---

| Home | Vending Technology News | More News | Vending Newsletter sign up | Questions? Contact us | email press releases
Also see:  | Technology Companies | Photo Booths | Kiddie Rides | Crane Games | Amusement Coin-Operated Games | Amusement Distributors |
VENDING YELLOW PAGES DIRECTORIES:
Call us at 1-800-956-8363 to POST YOUR COMPANY, or QUESTIONS?