Asia Amusement & Attraction Expo 2017 Post Show Report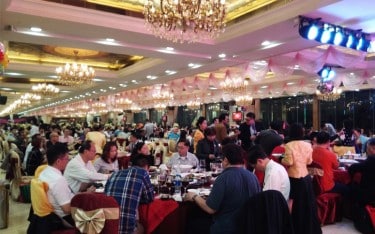 From exhibitors to visitors, during the 4-day exhibition our attendees were generally in high spirit for thousands of win-win cooperation agreements were reached on site. For instance, from their post on the social media, we learned that in just 2 days, Golden Dragon sold all of their exhibits and made dozens of appointments with buyers after the show. YERUI did not only sold all their exhibits, but also made new clients, which accounted for about 30% of all costumers they received during the show. On the spot, Huaqin received orders of over 100 amusement equipment. And as a result of AAA's noticeable effect on promoting business for its exhibitors, the re-attendance rate of AAA has always remained high. This year, the percentage of old exhibitors exceeded 67% and a lot of new exhibitors enthused that they were really looking forward to the next edition.
A Record for Highest Visitor Attendance Was Marked
The exceptional success of AAA 2017 also lied in its impressive visitor turnout of 136,000 person-times, which is the highest attendance in its history. Hundreds of oversea enterprises sent delegates to attend the show, representing over 40 countries and regions, such as the UK, the US, Australia, Belgium, Brazil, Canada, Germany, Hong Kong, India, Japan, Kenya, Mexico, Philippines, Singapore, South Africa, etc.
In order to let our attendees better enjoy their trip, the organizing committee of AAA offered them a limited number of free hotel rooms based on the principle of "first come, first served". And the free shuttle bus to and from the exhibition venue saved a lot of visitors from fatiguing travel.
According to our conversation with new visitors, a great number of them learned about AAA from our advertisement, which suggested that our persistent efforts in domestic and oversea promotion did pay off. And thanks to the kind supports of our old visitors, a lot of new visitors came to AAA under their strong recommendation. What's more, a lot of exhibitors invited their existing clients to visit them at the show, from which we can concluded that AAA is considered an very effective trade platform for many exhibitors.
VR & AR Products Made up an Significant Part of Exhibits
Together with China Guangzhou International Leisure & Recreation Expo 2017 under one roof, the extensiveness of our exhibit scope was beyond imagination, including amusement equipment, arcade machines, children's indoor playgrounds, VR and AR technology, water park equipment, theme park design and construction, multi dimensional theaters, PC, video and mobile games, billiards products, acoustic equipment, cinema and theater facilities, vending machines, etc.
In addition, over 500 new products were introduced to the market through AAA 2017, which highly coincided with our idea of innovation. With visitors delighted by the quality and novelty of the products on site, glowing comments on the exhibits could be heard everywhere.
The 6th Asia Theme Park Development Forum Honored by Big-Name Speakers
2 days before AAA 2017, the 6th Asia Theme Park Development Forum was held, receiving an audience of over 400 professionals from leading enterprises. Over 20 industry leaders were invited to address on the hottest topics, ranging from the planning, design, construction, and management for theme parks and attractions, to the future trend of Asian theme park market.
Voting Result of Lejiang Award Coming up Soon
If not for the commitment and hard work of all insiders, China's amusement industry could never have been so prosperous. As an tribute to the most outstanding contributors of this industry, Lejiang Award is established last December. So far, dozens of AAA's exhibitors have signed up as candidates, including Daxin, Wahlap, Flying Animation Technology, Shunhong, Neofuns, etc. After experts, insiders and consumers experienced their products at AAA 2017 and later vote for them online, the result will be released soon this May. If you are eager to know to whom this award will go, please stay tuned for it.
Over a Hundred Media Partners Contributed to the Success of AAA 2017
Throughout the organization and preparation for AAA 2017, the contribution of following media partners should not be left unremembered: International Association of Amusement Parks and Attractions (IAAPA), Themed Entertainment Association (TEA), International Association for the Leisure and Entertainment Industry (IALEI), Inpark Magazine, Malilaup Magazine, Casino and Business Life Magazine, The Stinger Report, Amusementparksnews.com, Highwaygames.com, Asia Attractions, China Game, Amuse Wind, Amuse China, Gpebook.com, Amunion, Business First-Line, Bacera Information, China Electronic Amusement Magazine, chinarides68.com, etc.
Here is a video report of AAA 2017 made by one of our staunch media partner.
Website: https://v.qq.com/x/page/v0382987o8q.html
AAA 2018 to Be Back With Larger Scale; G & A Coming up Soon
AAA will be back next April with an expected exhibition floor of 100,000 square meters, 5,000 booths and over 600 global exhibitors! But if one year is too long an interval for you to wait, then you can also attend G & A 2017 (China (Zhongshan) International Game & Amusement Fair 2017), also one of the best game and amusement trade show in the world, coming up soon this August!
If you are interested in AAA 2018 or G & A 2017, please follow our official website or contact us through e-mail and telephone for more information.
2018 Asia Amusement & Attraction Expo (AAA 2018)
Date: April 3rd-5th, 2018
Venue: China Import & Export Fair Complex
Website: http://www.aaaexpos.com/
China (Zhongshan) International Game & Amusement Fair 2017 (G & A 2017)
Date: August 11th-13th, 2017
Main Venue: Zhongshan Convention Center
Sub-venue: Guazngdong Game and Amusement Culture Industry City
Website: http://www.zsgaf.com/
Tel: +86 20 28967766
Fax: +8620 82579220
E-mail: grand@grahw.com
---

| Home | Vending Technology News | More News | Vending Newsletter sign up | Questions? Contact us | email press releases
Also see:  | Technology Companies | Photo Booths | Kiddie Rides | Crane Games | Amusement Coin-Operated Games | Amusement Distributors |
VENDING YELLOW PAGES DIRECTORIES:
Call us at 1-800-956-8363 to POST YOUR COMPANY, or QUESTIONS?