APPLE INDUSTRIES HEADS TO MIDEAST DEAL SHOW WITH NEW PRODUCTS FOR NEW MARKETS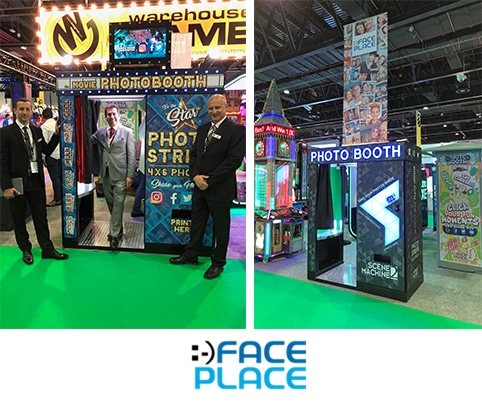 Greenvale, NY, April 4, 2018 – 
Now that Apple Industries has heavily penetrated the FEC market in the Middle East over the past 10 years, for 2018 the manufacturer returns to DEAL, the Dubai Entertainments Amusement & Leisure Show, with several exciting products that will expand its line of Face Place Photo Booths into outdoor destinations as well as movie theaters, hotel lobbies and other venues.
 "Face Place Photo Booths are so popular across the Mideast that many FECs have four of them in a single location — including models like Ruby, Sapphire, Scene Machine, and Magazine Me," said Apple CEO Allen Weisberg.  "Now we're ready to conquer new worlds with our first DEAL exhibition of Face Place Deluxe: Outdoor Edition.  Its rugged all-weather construction makes the Deluxe perfect for hundreds of high-traffic locations in the area that have expressed keen interest in getting into the market."
 "We are also gearing up for a major expansion into Middle East movie theaters and upscale hotel lobbies," confirmed Apple COO Scott Avery.  "Our popular Scene Machine 2 uses green-screen technology to create wild images that put customers 'into the movie' alongside dinosaurs, space ships, vampires or popular tourist attractions around the world."
 Apple will also display its award-winning Photo Studio Deluxe, a large-scale unit that invites up to 8 customers at a time to enter and role-play as they shoot fun videos that emulate popular movie scenarios, utilizing special effects technology to merge the customers with their choice of fantasy digital environment.
 Taking place at the Dubai World Trade Center in the United Arab Emirates, DEAL (www.dealmiddleeastshow.com) is the Middle East's biggest expo for the amusements industry.
 As it has done every year since 2009, Apple will plant its flag in the DEAL booth of its exclusive Mideast distributor, Warehouse of Games (www.wogme.com).
 "Apple is proud to be supported by Warehouse of Games, which has helped us to 'own' the photo booth market across the Middle East," said Allen Weisberg.
Warehouse of Games Ltd. is located in Dubai's Jebel Ali Free Zone. Owner and founder Nabil Kassim and sales & development manager Yuhanis Nawasreh have established WOG as one of the region's largest distributors of amusement and vending equipment.
"Together, Warehouse and Apple are taking Face Place to new frontiers in terms of both technology and locations," said Weisberg. "We look forward to a successful expo that will bring many more kinds of locations into the Face Place universe."
---

Home | Vending Technology News | More News | Vending Newsletter sign up | Questions? Contact us | email press release
Call us at 1-800-956-8363 or POST YOUR COMPANY