AMOA-NY Has Chosen Guest of Honor Nina Byron
AMUSEMENT AND MUSIC OWNERS ASSOCIATION OF NEW YORK, INC.
A NOT-FOR-PROFIT CORPORATION DEDICATED TO THE BETTERMENT OF THE AMUSEMENT INDUSTRY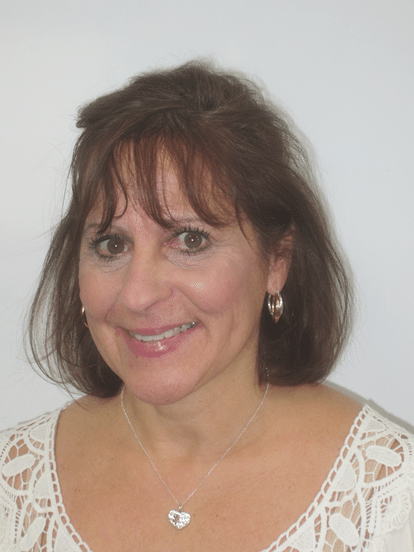 February 7, 2017, AMOA-NY has chosen a guest of honor who has logged four decades of service in the amusement and music vending industry.  Nina Byron, the first female to be presented with AMOA-NY's annual award, will be their 2017 "Woman of the Year", on Monday, April 24th, 6:00 PM-9:00 PM at Ben & Jack's Steakhouse, (midtown Manhattan), New York City.
Nina Byron is considered one of the best-known and most-liked executives among manufacturers, distributors, and operators throughout AMOA.  Since 1999 she has been the Financial Service Manager at Betson/H. Betti Industries, Inc., at their headquarters in Carlstadt, New Jersey.  Prior to Betson, Nina worked at Mondial in New Jersey for 22 years where she was their Credit Manager, Assistant Controller, and Executive Assistant.
Nina, a Garwood, New Jersey native vividly recalls when she was a seventeen-year-old student attending David Brearley High School in Kenilworth, New Jersey.  Mondial had advertised a part-time position seeking a high school student so Nina signed up for thirty hours a week.  It enabled her to attend Union Community College where she earned her Associate's degree in Business, and then William Paterson College where she earned a Bachelor's degree in Accounting.
Nina never thought she would be working her entire career in the coin-op amusements:  "Early on, a mentor explained to me that once the vending industry gets into your blood—you never leave and you develop an affinity and loyalty to it," Nina describes.  "I'm living proof it's true!"
Nina declares: "I would like to thank the entire Betti Family, Robert Geschine, and Kevin Fritz for giving me the honor to work for H. Betti Industries for the past eighteen years.  It has been a very rewarding experience and I must express my appreciation for their support, helping me grow professionally and personally."
Nina views the customer relationships she has established as part of her "family".  "I take pride in the number of years I know so many members of our industry.  I have been eyewitness to our industry's evolution where many of my clients were 'mom & pop' or sole proprietor routes.  Today most are corporations with multiple business units which include music and games.  There is the growth of 'family entertainment centers' beyond locations with several pieces of equipment."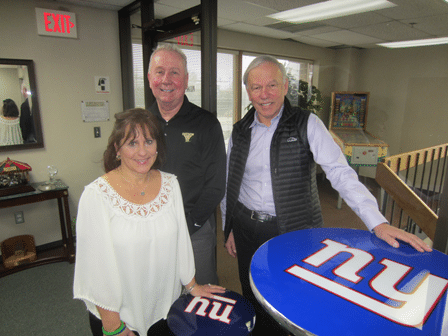 Observes Kevin Fritz, Betson's Vice President for Finance:  "I predict that AMOA-NY will have perhaps, what is the largest turnout ever at its April 24th gala—because of the following Nina Byron enjoys."  Adds Robert Geschine, Betson's President: "We want to thank AMOA-NY on this most deserving choice of 'Woman of the Year', and for all of Nina's contributions to Betson's entire customer base, industry-wide. Certainly, Betson will be out in force because Nina Byron with her team loyalty means so much to our company."
Among Nina Byron's cheerleaders on April 24th will be her husband of 34 years, Ed Byron, her daughter Krystina, her son-in-law Anthony, and granddaughter Ava.
Please join us for a five-star gourmet dinner at one of New York City's finest, most elite steakhouses, Ben & Jack's (www.benandjacks.com) 255 Fifth Avenue (by 28TH/29TH Streets, 212-532-7600). Everything on April 24th will be top shelf, first-class and flowing from 6:00 PM-9:00 PM. 
In what is becoming a tradition, we expect to feature another recording artist as AMOA-NY's "Jukebox Artist of the Year" for 2017.  Last year, AMOA-NY was privileged to honor a music titan, TONY ORLANDO.  Other "jukebox artists of the year" have been: THE STYLISTICS, folk music icon JUDY COLLINS.  five-time Grammy award winner DIONNE WARWICK—and PETER YARROW of the legendary, "Peter, Paul & Mary".
For Monday, April 24th, between***showing your respects for a business leader of our New York industry—the first time we have a FEMALE as our guest of honor***the excitement of meeting another top-of-the-charts jukebox artist***enjoying high-end U.S.D.A. "prime" steakhouse fare and cocktails ***: OH! WHAT A NIGHT!  Join us, mark your calendar now.  Monday, April 24th really isn't that far away
Nina Byron in 2017 follows some wonderful past AMOA-NY honorees:  Richard Kirby, Robert Geschine, Kevin Fritz, David Cohen, Michael Maas, Eugene Jarvis, Charles "Chuck" Peitz, and AMI ENTERTAINMENT/Rowe, Allen Weisberg, and Phil Cohn.
Please reminisce with these videos!  Open Link In New Window:
——————————————–
Can we count on your participation and support?
Why does AMOA-NY need your monetary contribution at this time through the purchase of tickets and video sponsorships to this April 24th event? Because of the funds previously provided, AMOA-NY has so far prevailed on a number of issues where the enterprises of operators are being threatened. Our community continues to face unfair competition from government-sponsored "gambling" entities and mega-companies that want government-approved exclusives to kick us out of our space, to usurp our operations.  Anyone who doubts this is welcome to visit and experience first-hand, the challenges we face in fighting back in the halls of government.
If you cannot attend April 24th, please be an advertiser/sponsor of our "souvenir video" which will receive ample exposure, and which will be nationally and internationally accessible.  The cost for being an advertiser/sponsor is $150 for AMOA-NY members, $250 for non-members.  As a video advertiser/sponsor you are contributing money that is earmarked for our government affairs and economic development issues.  Please be generous and forthcoming when responding to this appeal.  Humbly, we can only survive and stay vital with your participation.
Prosperity,
Danny Frank, Executive Director, AMOA-NY, dannyfrank@comcast.net, 212-279-1041
================================
AMUSEMENT AND MUSIC OWNERS ASSOCIATION OF NEW YORK, INC.
C/o Emerson Amusements, 72-10 51stRoad, Woodside, New York, 11377
212-279-1041 (dannyfrank@comcast.net)
********************************************
ANNUAL GALA GOURMET EVENT AT BEN & JACK'S STEAKHOUSE, MONDAY, APRIL 24TH, 6:00 PM-9:00 PM
TICKETS
AMOA-NY MEMBERS———————–———————–$350.00 PER PERSON
NON-MEMBERS——————-———————————-$500.00 PER PERSON
TABLE OF TEN, MEMBER/NON-MEMBER———————  $2300.00 (INC. VIDEO AD)
PAY AT THE DOOR————————–———————- $650.00 PER PERSON
"2017 AMOA-NY GALA VIDEO" (NO GRAPHICS, NO ARTWORK REQUIRED)
AMOA-NY MEMBERS———————–———————-$150.00
NON-MEMBERS——————-———————————-$250.00
MAKE ALL CHECKS PAYABLE TO: AMOA-NEW YORK
SEND CHECKS TO:
DANNY FRANK, EXECUTIVE DIRECTOR (dannyfrank@comcast.net)
AMOA-NY "TRIBUTE TO MUSIC"
C/O EMERSON AMUSEMENTS
72-10 51ST ROAD, WOODSIDE, NEW YORK 11377
————————————————————————–
Direct any questions concerning this event to Danny Frank at 212-279-1041, FAX-802-362-4611,
AMOA-NY  AMUSEMENT AND MUSIC OWNERS ASSOCIATION OF NEW YORK, INC.
A NOT-FOR-PROFIT CORPORATION DEDICATED TO THE BETTERMENT OF THE AMUSEMENT INDUSTRY
**PLEASE SHARE WITH A FRIEND OR ASSOCIATE IN OUR INDUSTRY!
---

| Home | Vending Technology News | More News | Vending Newsletter sign up | Questions? Contact us | email press releases
Also see:  | Technology Companies | Photo Booths | Kiddie Rides | Crane Games | Amusement Game Distributors |
VENDING YELLOW PAGES DIRECTORIES:
Call us at 1-800-956-8363 to POST YOUR COMPANY, or QUESTIONS?