A&A Global Introduces a New, Collectable Series of Toys
Cockeysville, Maryland (Thursday, August 25, 2016): A&A Global is proud to announce a new series of highly-detailed collectable toys—the Globsters™.  This is the first time that the  company has simultaneously released a series for multiple lines of business: bulk vending, redemption and plush.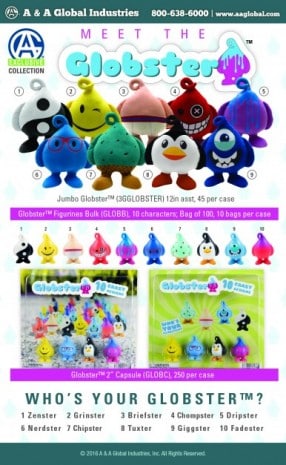 "Globster actually means a blob or unidentified organic mass," explained Kim Mattison, product development manager. "We decided to expand that into the design, as well as the product name.  The simple, yet whimsical, shape gave us a blank canvas to create these inherently cute characters."
The line includes 10 playful Globsters™, each having a unique name and personality.  Their individual characteristics are brilliantly reflected through each design.  The Globsters™ are Nerdster, Grinster, Chipster, Zenster, Tuxter, Chompster, Giggster, Dripster, Briefster and Fadester.
"The Globsters™ have been well received," said Kara Kokoruda, crane division manager.  "They will attract kids, as well as adults, to machines because they are colorful and have a large presence.  This series will be gratifying for our customers and the end users."
Globsters™ are available in 2 inch capsules, bulk and 12 inch plush.  For more information, please call 800-638-6000 or visit www.aaglobal.com.
About A&A Global Industries:  
Established in 1938, A&A Global is the premier manufacture of toys, candy, plush and inflatables for bulk vending, amusement and family entertainment centers industries. They are known for their fabulous product development, safety testing and ease of doing business.  A&A Global has two shipping points in Baltimore and Los Angeles to provide customers with convenient, quick and affordable shipping. For more information, visit www.aaglobal.com.
---

| Home | Vending Technology News | Vending News | Vending Newsletter sign up | Questions? Contact us | email press release | Also see: Bulk Vending Products | Bulk Vending Machines |