1sourcevend Adds Check-In/Check-Out as Standard Feature for Locker Vending Machines
The feature is powered by 1sourcevend's powerful cloud-based inventory-control software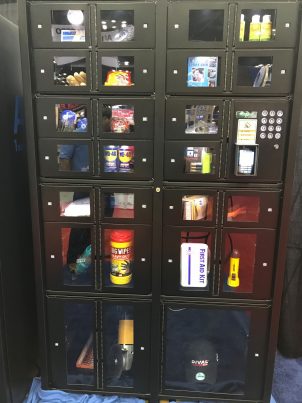 MEMPHIS, Tenn. – 1sourcevend, in response to customer requests, has added check-in/check-out capabilities to its Automated Vending Manager locker vending machines, allowing for better inventory control of high-value, returnable items such as power tools, laptops, radios, safety equipment and more.
The check-in/check-out feature, which now comes standard with any locker-style vending machine, gives customers better inventory control while providing immediate, 24-7 access to mission-critical items, all without the need for additional tool crib personnel.
This feature is powered by 1sourcevend's simple but powerful cloud-based inventory-control software. Customers can store items securely and identify who has checked them out last, improving accountability and encouraging responsible use. Watch the video on this page to see how the check-in check-out feature works.
With the addition of this feature, distributors providing locker machines for their customers add to the user benefits that vending provides, strengthening their value proposition and empowering their sales teams.
Visit 1sourcevend.com to learn how distributors offering our industrial point-of-use vending system are capturing more business, increasing customer stickiness and competing on more than just price.
About 1sourcevend
1sourcevend was founded by the owner of an industrial distribution business to help independent businesses like his compete on a level playing field with big-box distributors, all while selling more and growing margins. 1sourcevend's industrial vending system, which includes powerful but user-friendly inventory control software, is an ideal solution for distributors seeking a simple, flexible and affordable inventory management solution.
1sourcevend helps independent distributors across segments compete on more than just price with customers of all sizes, helping them to increase productivity, decrease costs and improve inventory control.
Learn more at 1sourcevend.com, 901-345-6011, info@1sourcevend.com
---

| Home | Vending Technology News | More News | Vending Newsletter sign up | Questions? Contact us | email press release
Also see: Software Companies | Technology Companies | Micro Markets | Distributors | Machine Manufacturers | Vending Companies USA
VENDING YELLOW PAGES DIRECTORIES:
Call us at 1-800-956-8363 to POST YOUR COMPANY, or QUESTIONS?