Workfast Tools Launches New Mode of Personal Protection
Fort Lee, New Jersey (July 30, 2020)  – How can you avoid virus infection when touching elevator buttons, keypads, store credit card screens, gas pumps, opening exterior doors, using public rest room faucets and doors as well as many other potentially infected surfaces you run into?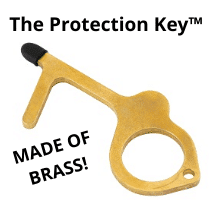 Answer: The Protection Key™ (patent pending) product with a brass surface touches these surfaces conveniently, to keep you safer.  The Protection Key™ has a hole for comfortable gripping with your fingers and FITS ON A KEY CHAIN.  
Advantages: The Protection Key™ is made of a brass surface (different than any other brand) and that it dissipates viruses much more quickly.
Studies have demonstrated virus's strength on brass surfaces are dissipated by as much as 50% in 2 hours and are known to lose their transmission capability in 4 hours. Some of the competitor's products don't have brass surfaces,  thus viruses stay on these surface as long as 2-3 days longer. 
The Protection Key™ conveniently touches surfaces you normally would  that could transmit viruses. Use it to press buttons, touch screens & keypads, and pull levers. Examples of use are elevators, store credit card screens, ATM machines, exterior doors, gas pumps, and public rest rooms.
The surface of the key is brass, which dissipates the virus in shorter time frame than any other surface material.  The key has an ergonomic design with a thumb rest to make it easier to pull doors open.  It fits on a key chain.  And, the key is available in packs of 1, 2, 3, or 4.
Pricing allows for substantial mark-ups but still resulting in very affordable retails. Suggested retail price ranges from $3 to $4. 
About Workfast Tools Ltd.
Workfast Tools Ltd. is a U.S. based company that owns a factory in China supplying  KN95 respirator face masks, 3 ply surgical masks and face shields as well as the Protection Key™.  The masks and face shields are registered with the FDA. KN95's have lab tested over 95% particle filtration.  Capacity is 150k/day for KN95 masks, 500k/day for Surgical masks,50k/day for face shields, and 50k/day for Protection Keys. Samples available.  Prices quoted based on volume requirements. 
For more information about Workfast Tools Ltd. personal protection products contact Marcy Gartner at (201) 264-6140, or email Mgartner@workfastintl.com.

Workfast Tools Launches New Mode of Personal Protection, also supplies a complete line of masks and face shields direct from its factory.

---

 Vending Technology News | More News | Vending Newsletter sign up | Questions? Contact us | SUBMIT PRESS RELEASE
Also see: Software Companies | Technology Companies | Micro Markets | Cashless Vending Solutions | Distributors | Classified Ads | Routes for sale | Vending Companies USA | VendLoco Lists | Home |
VENDING YELLOW PAGES DIRECTORIES:
Call us at 1-800-956-8363, POST YOUR COMPANY, GET NEW BUSINESS!