Virtual Rabbids: The Big Expansion Pack Launches Globally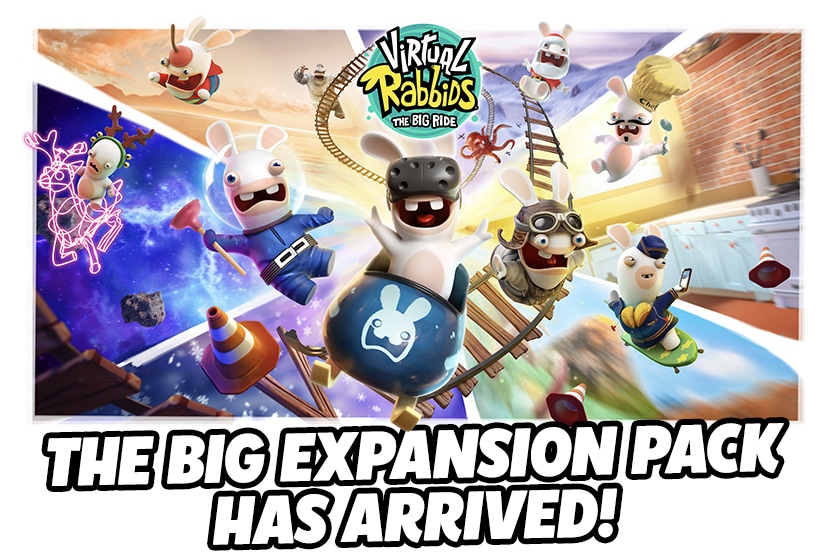 Dallas, August 22, 2019 – Leading game manufacturer LAI Games has announced that the muchanticipated release of The Big Expansion Pack for its award-winning Virtual Rabbids VR ride. The Big Expansion Pack adds 3 brand new premium experiences to the existing line-up and includes a new game header and signage to advertise the update to players.
"These new experiences are exceptionally well crafted, fully immersive adventures that continue the momentum of this industry-leading game," said Tabor Carlton, LAI Games Marketing Director.
"We're proud to say The Big Expansion Pack takes unattended Virtual Reality to the next level, with stages varying from family-friendly to extreme. The new experiences really offer something for everyone."
One innovative addition to the new content is an interactive component in the Space Skirmish ride, where players "shoot" at targets by aiming their VR headsets. Furthermore, LAI Games partner DBOX's "hybrid D-BOX motion" adds layers of depth in the motion base, synchronizing both the on-rail aspect as well as the shooting action. Combined with the incredible 360˚ views into the wacky world of Ubisoft's Rabbids, the enhancements offer guests a whole new level of fun.
About Ubisoft
Ubisoft is a leading creator, publisher and distributor of interactive entertainment and services, with a rich portfolio of world-renowned brands, including Assassin's Creed, Far Cry, For Honor, Just Dance, Watch Dogs, Tom Clancy's video game series including Ghost Recon, Rainbow Six and The Division. The teams throughout Ubisoft's worldwide network of studios and business offices are committed to delivering original and memorable gaming experiences across all popular platforms, including consoles, mobile phones, tablets and PCs. For the 2018-19 fiscal year, Ubisoft generated net bookings of €2,029 million. To learn more, please visit www.ubisoftgroup.com/.
About D-BOX
D-BOX redefines and creates hyper-realistic, immersive entertainment experiences by moving the body and sparking the imagination through motion. This expertise is one of the reasons why D-BOX has collaborated with some of the best companies in the world to deliver new ways to enhance great stories. Whether it's movies, video games, virtual reality applications, themed entertainment or professional simulation, D-BOX will make sure, you feel it all.
About LAI Games
LAI Games, a subsidiary of Helix Leisure, has been a leader in the interactive entertainment and game industry for over 60 years. The company develops, manufactures, and sells coin and card operated virtual reality, prize merchandising, video and ticket redemption games, photo booths and novelties. LAI Games is dedicated to bringing innovative and high incoming-producing games to the global market. For more information, please visit www.LAIGames.com.
Follow LAI Games on LinkedIn for more updates: https://www.linkedin.com/company/laigames
---

Home | Vending Technology News | More News | Vending Newsletter sign up | Questions? Contact us | email press release
Call us at 1-800-956-8363 or POST YOUR COMPANY, GET NEW BUSINESS!