Vending Machine Market Projected To Grow 9.82 billion between 2020-2024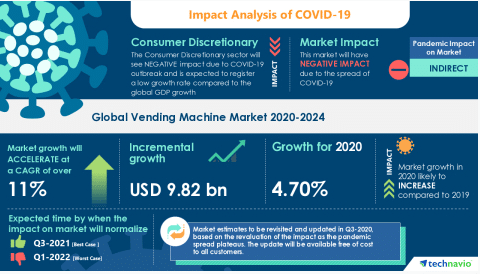 Recent data from Technavio states that the vending machine market was projected to grow by a CAGR of 11% in 2020.  This growth can be directly traced to the Covid-19 pandemic, which has made vending machines a vital part of consumers' daily lives.  
During Covid-19, every consumer has been conscious about touching surfaces because we know that the virus can survive on surfaces for weeks at a time.  Thankfully, with a vending machine, consumers don't need to have physical interaction with other human beings or surfaces to get the food, beverages or products that they want.  
Will Growth Continue? 
Most economists and vending business owners want to know if this growth of the vending machine market continue.  The answer to this question is yes. The recent data from Technavio shows us that the global vending machine market is also projected to grow by 9.82 billion dollars between 2020 and 2024.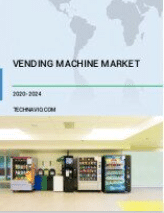 This is huge news, considering that the United States and most countries are now only entering the second wave of Covid-19, it's easy to see that the virus will be one of the main reasons why the vending market will continue growing in the year to come. 
What's Next For Vending? 
Besides the projected growth for the vending machine market, what else can we expect from vending In the coming years? With contactless vending being the major Trend in vending right now, most owners who have lower–end vending machines, are expected to start upgrading their vending machines in the next 12-24 months to keep up with customer demand for contactless vending. 
Besides focusing on upgrading their machines with contactless solutions, owners are also expected to continue focusing on improving customer shopping experiences as well by implementing smart solutions. Consumers can also have the ability to use their phones to order products, beverages, and foods from vending machines without having to physically touch surfaces.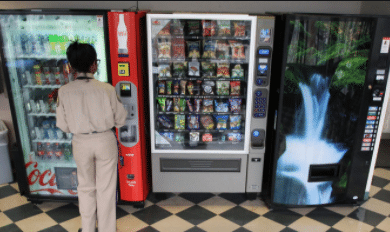 Where Will The Biggest Growth Regions Be For Vending In The Coming Years? 
Since most countries are already ahead of the curve with implementing contactless and smart vending solutions, it's projected that North America is going to be the biggest driver for growth in the vending market worldwide.  
Yes, the vending market does look very exciting right now, and owners have every right to be optimistic about the direction that the vending is heading in the years to come. Covid-19, and a fast-paced world, are going to motivate owners to adopt technology which will provide better experiences to consumers while helping their businesses to grow. 
By Jeremy Raglin, Editor-Content Writer
---

 Vending Technology News | More News | Vending Newsletter sign up | Questions? Contact us | SUBMIT PRESS RELEASE
Also see: Software Companies | Technology Companies | Micro Markets | Cashless Vending Solutions | Distributors | Classified Ads | Routes for sale | Vending Companies USA | VendLoco Lists | Home |
VENDING YELLOW PAGES DIRECTORIES:
Call us at 1-800-956-8363, POST YOUR COMPANY, GET NEW BUSINESS!