VendaCarts Mobile Automated Retail Store
"VendaCarts mobile automated retail stores moves vending into untapped marketspace, maximizing sales, elevating profit margins and creating new business opportunities. VendaCarts mobile automated trailers opens the world of vending to thousands of outdoor locations where the masses gather. VendaCarts offer self-serve opportunities from both sides of the trailer and the entire operation can be handled by a single person. VendaCarts are custom built from the ground up per our customer's needs". Annette Noland, President of CartsBlanche.com.

Significant Advantages
"VendaCarts" vending machines on wheels is the latest business opportunity in the world of vending.
Security: The vending machines and other equipment are bolted to the frame of the trailer and then they are bolted to each other for added security. The side awning doors lock down encapsulating the machines inside with the double padlocking system offering maximum protection. Optional security items such as wheel locks can be used on the unit making it almost impossible to tow away. Option of removable tongue/hitch is available.
Depending on the size of the trailer either a ½ ton, ¾ ton or one ton truck or van will be needed for towing.
One person can transport, set-up and operate equipment and services.
Set-up (approximately 4 hrs.) unlock and open doors/awnings, connect to a power source, load vending machines and condiment stand if needed, start preplanned digital messaging and load ATM's with cash.
Delivery of your VendaCarts turnkey business takes between ten to fourteen weeks from receipt of order and provided all decisions regarding the vending machines, ATM's and/or digital signage etc. have been made within the first two weeks of construction. No Franchise Fee.
"VendaCarts" mobile automated retail business opportunity combines the fast-turn, high-volume world of automated retail sales with mobile real-estate producing optimal self-serve customer experience for increased sales and maximized net profits.
The easy single person set-up and take-down design combined with the unmanned automated operations of the business creates a competitive advantage that decreases operating costs by eliminating the need for additional employees.
Automated Technology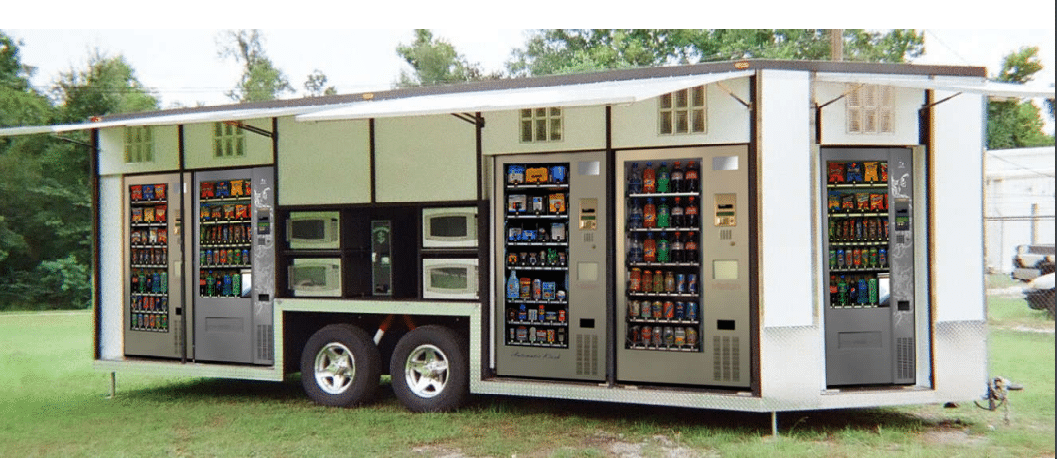 Vending machines now offer many technology options that enhance point-of-sale merchandising. New additions such as touchscreens, video screens, cashless readers, calorie information and coupon dispensers, etc. provide information, visual images and promotional offers.
Operators use this technology to speed up productivity and for remote machine monitoring. Consumers enjoy the sensory buying experience and new information that these new technologies provide which culminates to give shoppers a better buying experience.
Vending sales increases by giving customers various cash, credit/debit card payment options.
Unlimited Business Locations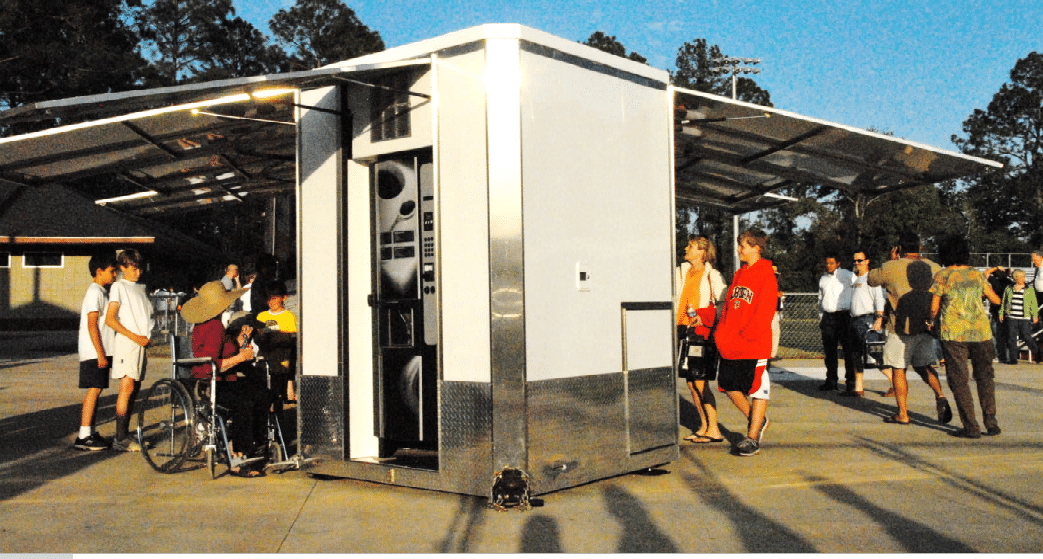 VendaCarts open up non-traditional markets for automated retail sales. The combination of the fast-turn, high volume world of vending with mobile real estate allows you to capitalize on thousands of new markets and new customers at outdoor venues, construction sites, universities etc. Vendible products range from food and beverage to clothing and shoes, souvenirs, tools, health aids, electronics and many more options. Taking these products to the masses is convenience retailing at its finest. This is not your father's food truck.
·       Outdoor Events·       Disaster Relief Areas

·       College/Universities

·       Man Camps

·       Military Installations·       Construction & Building Sites

·       Oil & Gas Fields

·       Industrial Catering Locations
Unlimited Mobile Business Opportunities
·       Automated Convenience Stores·       Promotional/Marketing Kiosks

·       ATM / Banking Kiosks

·       Mobile Automated Mini Markets

·       Pop-Up Cafés & Shops·       Mobile Gaming Trailers

·       Industrial Mobile Storeroom

·       Promotional/Marketing Kiosk
Contact: 251-786-5852, annette@cartsblanche.com
For more information visit cartsblanche.com
"A Rolling Profit Center offering New Business Opportunities through Mobile Automated Retail Solutions"
---
Vending Technology News | More News | Vending Newsletter sign up | Questions? Contact us | email press release
Also see: Software Companies | Technology Companies | Micro Markets | Cashless Vending | Distributors | Classified Ads | Routes for sale | Vending Companies USA | Home |
VENDING YELLOW PAGES DIRECTORIES:
Call us at 1-800-956-8363, POST YOUR COMPANY, GET NEW BUSINESS!</b