Univest Offers No Payments Until May on #1 Redemption Game Pearl Fishery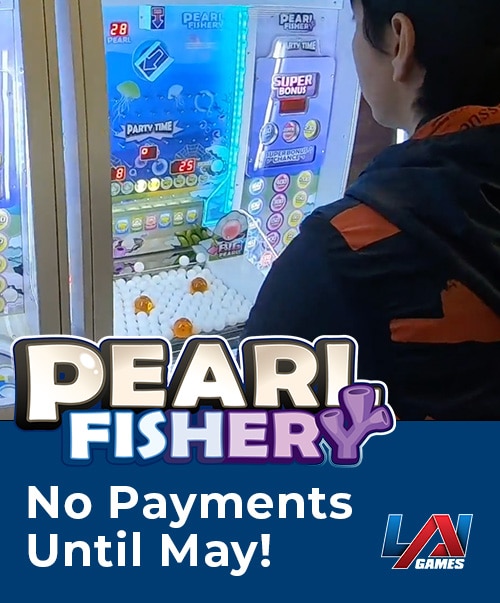 Dallas, December 10, 2020 – LAI Games announces a financing program through Univest Capital, Inc. on their hit redemption game, Pearl Fishery. For a limited time, qualified buyers can finance Pearl Fishery at 7.99% APR (single unit) or 5.99% APR (two or more units) for 36-60 months, with no payments until May 2021. Pearl Fishery, a unique twist on the classic coin pusher, has become a player favorite, with some locations installing two units back-to-back for an impressive presentation.
Pearl Fishery takes the classic appeal of a coin pusher and mixes in the thrill of a multi-layered big-ticket game. Players drop small pearls down the pin board into a matrix of multipliers to win tickets and release Big Pearls onto the play field, giving them access to a super bonus jackpot game for an even bigger ticket payout. Winning tickets are consistently paid out to reward players and excitement levels are kept high with extra opportunities to win across multiple mini-games, making Pearl Fishery fun and engaging for all ages.
For full finance program details, contact your LAI Games authorized distributor. To learn more about Pearl Fishery and view a video of gameplay, visit https://laigames.com/games/pearl-fishery.
About LAI Games
LAI Games, a subsidiary of Helix Leisure, has been a leader in the interactive entertainment and game industry for over 60 years. The company develops, manufactures, and sells coin and card operated virtual reality, prize merchandising, video and ticket redemption games and novelties. LAI Games is dedicated to bringing innovative and high incoming-producing games to the global market. For more information, please visit www.LAIGames.com.
Follow LAI Games across all their social channels: laigames.com/social
---

Home | Vending Technology News | More News | Vending Newsletter sign up | Questions? Contact us | email press release
Call us at 1-800-956-8363 or POST YOUR COMPANY, GET NEW BUSINESS!