The Good Bean Roasted Chickpeas, GrabNGo!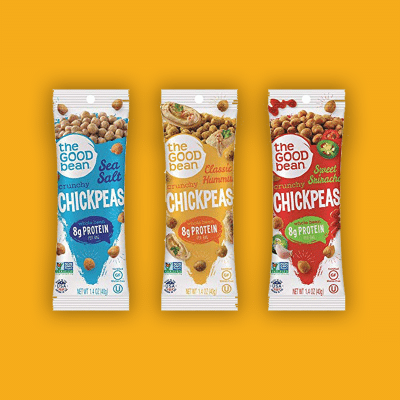 A snack that's crunchy, tasty and better for you at the same time? The Good Bean has a win-win with their Roasted Chickpea Snacks. These crunchy snacks are delicious and also packed with nutrition benefits as well including spinach, folate, and fiber!
Unlike some healthy snacks on the market, Good Bean chickpea snacks are never boring since they come in a wide variety of flavors including cinnamon, cracked pepper, sea salt, hummus, and smoky chili/lime.
Snacking is something that most people enjoy at different times of the day and with these flavored chickpea snacks, consumers who enjoy them can snack with confidence knowing that they are putting something delicious and healthy into their bodies.
With up to 7 grams of plant protein and 3 grams of fiber per serving, these snacks offer a one-two punch that will positively impact any person's diet and provide them with a healthy snack that they can enjoy without compromising their diets.
About The Good Bean
The Good Bean is a snack food company founded by Sarah Wallace and Suzanne Slatcher in 2010, and based in Berkeley, CA. The Good Bean specializes in chickpea based snacks. The Good Bean's Roasted Chickpea Snacks are "Desi" variety chickpeas, dry roasted and tossed in spices.
Offerec in 1.4-ounce bag, these chickpea snacks will make an excellent product to add to any micro-market or vending machine.
To learn more about the Good Bean and their flavored chickpea snacks, visit their website at http://www.thegoodbean.com.