STōK Offers Espresso Coffee Shots 
Coffee drinkers are passionate about coffee but they also sometimes want to drink an occasional espresso, or add more caffeine to their morning coffees.
With STōK Coffee Shots, coffee drinkers can now have a convenient way to enjoy an espresso anytime, or add that extra boost of caffeine to their morning coffees, when they use one of the convenient STōK Coffee Shots.
Packed With 40-MG Of Coffee Powdered Caffeine
Packaged in a creamer-like container, these coffee shots can easily be added to any cup of coffee, iced tea, smoothies (or favorite drink of choice), to instantly add a boost of caffeine to that drink, and provide the consumer with an extra jolt of energy for their day.
Even though these espresso coffee shots are tiny, they are not small on caffeine. Each 13 ml coffee shot comes with 40 milligrams of caffeine that can be used for any occasion.
Coffee Shots That Can Be Enjoyed Anytime
STōK takes their time producing great coffee, and their coffee shots continue their successful product line, which also includes cold brew coffees and iced teas.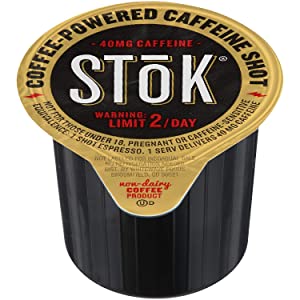 Like most coffee brands on the market today, STōK offers a sweetened and non-sweetened version of their well-known coffee shots so it will appeal to most coffee drinkers who want the caffeine without the extra calories.
Unlike traditional espressos which can take time to make, before they can be enjoyed, STōK espresso coffee shots can be enjoyed anytime. All a coffee drinker has to do is open the coffee shot and dump it into their cup, just like they would with any other additive that they would put into their coffee.
What's also ideal about these coffee shots is that they don't have to be refrigerated so any micro-market, or vending operator, can easily offer them to their customers.
To learn more about STōK coffee shots, visit their website at https://www.stokbrew.com.