SkinnyPop Puffs – Organic, Gluten-Free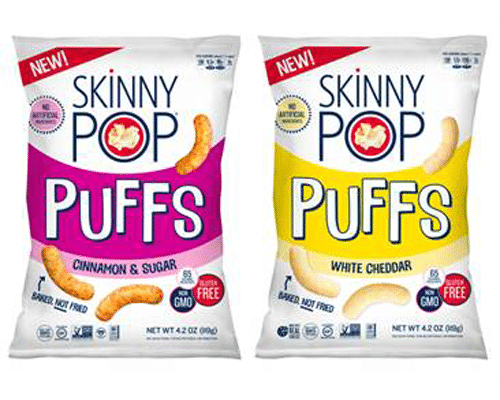 Cheese puffs will always be a popular and fun snack food, but in these changing times more consumers than ever before want to enjoy healthier versions of their favorite snack foods.
Thankfully, SkinnyPop has been creating better for you versions of iconic snack foods like their now hugely successful SkinnyPop Popcorn, but they didn't stop there, the company now has released their own flavor puff snacks. 
About SkinnyPop Puffs
Made from SkinnyPop Popcorn, these puffs have non-GMO, gluten-free ingredients, and they are also baked, not fried.
Consumers who are concerned about calories, or the quality of the ingredients in the foods they are consuming, can have confidence that they are consuming something wholesome when they enjoy SkinnyPop puffs.
Anyone who has enjoyed cheese puffs in the past but is concerned that SkinnyPop Puffs are going to be boring can think again. These puffs come in a variety of flavors including Sweet Cinnamon and white cheddar.
A Better For You Snack Option
Even though they may taste great when you enjoy a SkinnyPop puff you can have confidence in knowing that they are indeed better for you since they offer 17 grams of sugar in each serving while also being low in sugar as well.
Retailing for $3.30 per 4.2-ounce bag, and with only 130 calories per serving, SkinnyPop's puffs are an ideal snack food that's sure to sell well from most micro-markets or vending machines because the average consumer wants to have a snack that's high on flavor and low on calories.
Since launching in 2010, SkinnyPop has changed the snack food market because their snacks taste great and are always free of artificial ingredients including gluten and nuts.
To learn more about SkinnyPop's organic, gluten-free puffs, visit their website at http://www.skinnypop.com.