Sealed Meals – Fresh Microwavable Meals
Sealed Meals Stay Fresh In The Fridge For Up To 45 Days!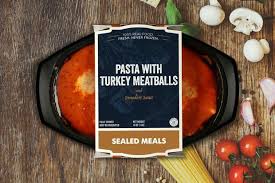 With more consumers eating meals on the go, few people are eating fresh meals. They are instead consuming foods that are high in fats, calories and preservatives.
With Sealed Meals, the on-the-go meal market has changed because now anyone can take one of the sealed meals microwavable meals from a fridge and have a delicious meal in a matter of minutes.
Real Meals, On The Go
The average person who eats meals on the go these days has just minutes to eat their meal. With Sealed Meals, all a consumer has to do is choose their meal, then heat their meal in the microwave for about 3 minutes before they can enjoy it.
Unlike frozen meals that can be found in the frozen food section of a local supermarket, sealed meals are made fresh and never frozen. These meals are kept fresh via pasteurization and vacuum sealing technology which will keep the meal fresh in a fridge for up to 45 days.
For micro market operators, this means that they have another option to offer their customers because, with Sealed Meals, consumers can choose from many delicious meal options including Turkey Chili, Pasta with Meat Balls and Pasta Primavera.
Protein And Vegetarian Options Available
Let's say that you own a micro market but you know that your customers will want meals that have healthy doses of protein and vegetables.
With Sealed Meals, these options are available as well and the menu options are never generic because the company offers plenty of great menu options that are well-known in restaurants around the world.
Based in Atlanta, GA, Sealed Menus has filled a void in the prepared food market since the demand for fresh, prepared food is only growing by the year.
To learn more about Sealed Meals, visit their website at https://sealedmeals.com, info@sealedmeals.com