Say Cheese with Vending Machine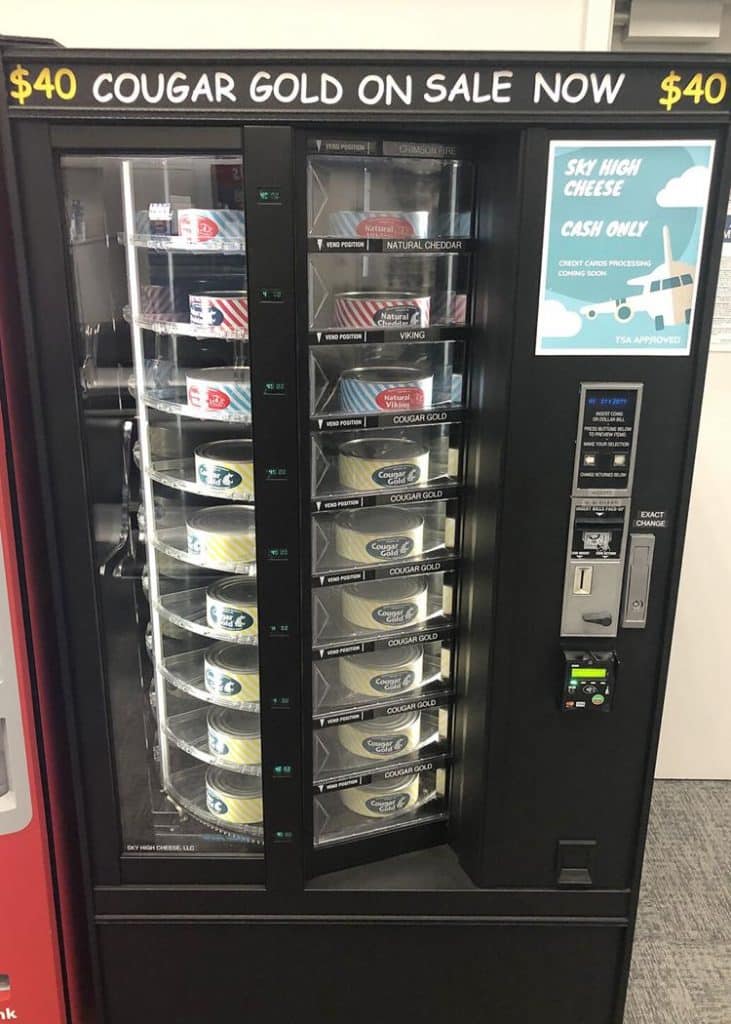 PULLMAN, Wash. — A new company has come up with a unique way to sell Washington State University's Cougar Gold cheese — a vending machine.
Sky High Cheese LLC has installed the vending machine selling several WSU specialty cheeses at the Pullman-Moscow Regional Airport.
"This might sound a little cheesy, but I was looking for a hobby that would allow me to use my creativity and I thought a small business would be something fun to do," Jeff Reed, owner of Sky High Cheese, told the Capital Press.
Reed grew up in Pullman, where WSU's main campus is, and loves all the cheeses produced by WSU's creamery. He graduated from WSU in 2007 with a business degree, specializing in marketing.
"I thought that a vending machine would be a unique way to sell the cheese and … convince many people unable to get to the WSU Creamery," Reed said.
The vending machine has been in operation for a week, and so far demand has been "Gouda," Reed said.
The machine sells four types of cheese: Cougar Gold, an aged white cheddar; Viking, a white cheese similar to Monterey Jack; Crimson Fire, with hot peppers added; and Natural Cheddar.
Each tin costs $40.
The tins are Transportation Security Administration-approved for carry-on or checked bags, Reed said.
The vending machine currently only takes cash, but will begin taking credit card payments by the end of August.
"It is interesting and creative," said John Haugen, the WSU Creamery manager. "Cougar Gold has been available to buy at the airport at times, but not as visible as this."
Because the price is similar to other local resellers, Haugen expects the business to do fairly well.
"We have allotments for local resellers," he said. "We don't want to run out of cheese too early in the year."
The creamery produces eight batches a week. A batch uses 15,500 pounds of milk, or about 1,800 gallons, to make about 850 cans.
"Because we are still running out of cheese every year before holiday season is over, we haven't wanted to add more resellers which could cause us to run out earlier," Haugen said.
Ferdinand's, the creamery's main shop, has limited hours, so the creamery tries to make sure local resellers in Pullman have enough cheese.
"However, if we run out, everybody runs out," Haugen said. "We keep working on making more cheese. The pandemic and remote classes have slowed us down a bit, but we are still making more than previous years."
The vending machine currently only sells WSU cheese.
"We have looked at the possibility of adding other WSU products, but that would be in the future," Reed said, adding that he wants to see how the cheese sells.
He might be willing to investigate the future use of University of Idaho products, he added.
Reed sees possibilities in the vending machine as a place for customers to purchase gifts for family, friends or just to take home for themselves.
"I believe that there was enough of a demand to pursue this opportunity and I thought it was something fun for Pullman — how often do you see a cheese vending machine?" he said. "My favorite comments so far have been 'This is the most Pullman thing ever,' and 'All you need is a wine vending machine next to it and you're set.'"
Reed would love to see the idea take off, and would consider expansion into other airports.
"Right now, I am enjoying the ride and having fun," he said.
source: capital press
Also see: Cold Food Vending Machine, Hot Food Vending Machine,