Pizza Vending Machines Are Here, Just in Time for The Pandemic Era 
In this era of COVID-19, it's not uncommon to find most restaurants closed across the United States, or only serving food via delivery.  
Even though there may be little to no dining options in many cities across the United States, the good news is that pizza vending machines are meeting the demand of diners around the world. 
Limits the Spread Of COVID-19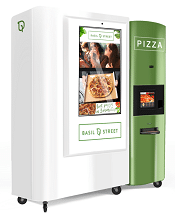 Even though pizza vending machines have been in development for years, Coronavirus (COVID-19) has made the development of these vending machines more important because of one primary reason, they limit the spread of the virus because human hands will not be touching the pizzas that the machines create. 
Eliminating human contact is highly appealing in today's world since nobody wants to get the coronavirus or unintentionally spread the virus to another human. 
The good news is that since all of the ingredients for a pizza are self-contained in the vending machine, human contact is unnecessary and the person that orders the pizza can enjoy it with confidence without having to wonder who might have touched it. 
Meeting Consumer Demand 
Basil Street, a Los Angeles based startup is one of the companies that's seizing on the opportunity to meet the demand of consumers nationwide who still want to eat out but don't want to put themselves in danger by having their food handled by humans 
The great thing about their pizza vending machine is that it makes a delicious takeout pizza in minutes and there is zero contact with other humans. Anyone can order a yummy pizza and enjoy it with confidence without wondering if the person who made it might have been someone who had coronavirus.  
"It is unfortunate that our automated pizza kitchens are not already out in the field and deployed everywhere," Basil Street founder and CEO Deglin Kenealy 
Basil Street Pizza Vending Machines 
The Basil Street Vending Machine is made with the most comprehensive robotics available today including custom software and an advanced operating system. This means that customers will be ordering a delicious pizza with confidence knowing that they are going to be able to enjoy a "just out of the oven" taste from their pizza even though it's coming from a vending machine. 
Basil Street has decades of experience at developing vending machines that minimize maintenance, keep support costs low, boost customer satisfaction and offer their owners maximum ROI.  
The Basil Street pizza vending machine also comes with a 42-inch digital display that can be used for running still digital advertisements while also recognizing the gender, weight, and age of people who order pizza from the machine. 
To learn more about the Basil Street Pizza Vending Machine visit their website at https://basilstreetpizza.com/ 
Multiple Companies Entering the Pizza Vending Machine Market  
Besides Basil Street, there are a variety of other pizza vending machine companies that are entering the market and are eager to take advantage of the demand for pizza in a world that's been affected by a coronavirus. 
Some of the other companies that are offering pizza vending machines include Let's Pizza (http://letspizza.com/) a machine that promises to make a pizza in 3 minutes, and Shiok, (https://www.shiokpizza.com/) a pizza vending machine that also promises to deliver a delicious pizza in minutes as well. Fastcorp Vending offers Pizza Vending Machines wit robotic arms (https://fastcorpvending com).
Yes, the market for pizza vending machines is huge and as robotic technology advances, consumers can order pizza with confidence that they are going to receive a pizza that has the same look and taste as other human-made pizzas that they've had in the past. 
---

 Vending Technology News | More News | Vending Newsletter sign up | Questions? Contact us | email press release
Also see: Software Companies | Technology Companies | Micro Markets | Cashless Vending | Distributors | Classified Ads | Routes for sale | Vending Companies USA | Home |
VENDING YELLOW PAGES DIRECTORIES:
Call us at 1-800-956-8363, POST YOUR COMPANY, GET NEW BUSINESS!