PETER FETHERSTON, 2019 OPERATOR OF THE YEAR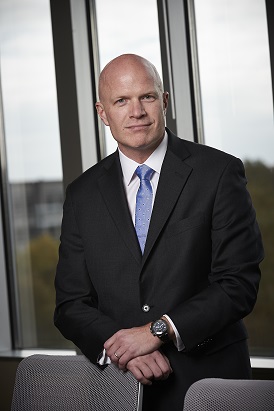 (CHICAGO) April 22, 2019 – Peter Fetherston, CEO of Canteen, Compass Group North America, was recently announced as NAMA's Operator of the Year as part of the association's 2019 Industry Awards.
The Operator of the Year Award is presented to an individual that best exemplifies consistent advancement of the convenience services industry. Candidates must be innovative and possess a willingness to expand conventional business practices. 
A native of Belfast, Northern Ireland, Fetherston began his career at Bass Brewers before joining Compass Group in 1996. He held several financial and commercial positions at Compass in the UK before moving to the US in 2001 as the divisional controller for national accounts. In 2010 Fetherston became CFO for Compass' US-based Core Foodservice operations, and in 2013 he was named CEO of Canteen. 
Under Peter's leadership, Canteen has seen remarkable growth and innovation, including the development of cutting-edge technologies, and expansion into additional convenience services channels like coffee services, micro markets and pantry service. Fetherston also works to create a supportive and engaging work environment for the Canteen team. 
Dedicated to serving the industry on a broader scale, Fetherston is a member of NAMA's Board of Directors and the NAMA Foundation's Board of Trustees. He has also been an active advocate and industry supporter at NAMA's annual Fly-In & Advocacy Summit and Public Policy Conferences, educating legislators on the convenience services industry. Fetherston has also participated in NAMA's Executive Forum and numerous NAMA Shows and CTW events.  
Outside of his work to grow Canteen and advance the industry, Fetherston is passionate about helping others and is dedicated to fostering partnerships with organizations that enable meaningful employment opportunities, notably for veterans, transitioning service members and military spouses. 
Fetherston holds a Bachelor of Science in Economics and Accountancy from Loughborough University in England. He lives in Charlotte, North Carolina with his wife Vicki and their two children. 
About the Awards: 
The NAMA Industry Awards are presented to individuals that best exemplify consistent advancement of the convenience services industry. 
About The NAMA Show:

The NAMA Show, with more than 5,000 professionals, delivers the power of the convenience services industry: vending, coffee services, foodservice, micro markets and pantry. Discover cutting-edge technology and trends, explore new products, and build a powerful network of industry allies to grow your business and service your customers.  
Learn more and register at thenamashow.org. 
Founded in 1936, NAMA is the association representing the $25 billion U.S. convenience services industry.  With more than 1,000 member companies – including many of the world's most recognized brands – NAMA provides advocacy, education and research for its membership. Visit NAMA on Facebook, Twitter and LinkedIn.  
---

Home | Vending Technology News | More News | Vending Newsletter sign up | Questions? Contact us | email press release
Call us at 1-800-956-8363 or POST YOUR COMPANY, GET NEW BUSINESS!