Ollie – The Smart Little Vendor by VDW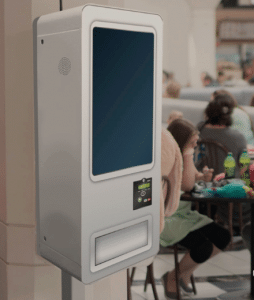 Ollie – your "smart little vendor".  Compact unit with impressive capacity. This unit comes with legal-age verification hardware, so this machine is ready to sell: CBD, PPE, tobacco, e-cigarette or similar products, right out of the box. These products are an untapped and lucrative market and these machines are primed to take a piece of it. This is a smart vending machine with remote access to monitor the status of the machine.
Height 42", Width 18.5", Depth 13", 24 inch touch screen.  Selections 12, with 10 items per selection for a maximum capacity of 120 items.
It's cashless, not only accepting credit and debit cards BUT also including Google Pay, Apple Pay, PayPal and most smart phone applications.

Why the OLLIE?
Feature: Touch Screen  – Remote access to advertising on idle screen.
Benefit:  You can adjust the advertising message from you remote location 24/7.
Feature: Touch Screen – Remote access to your product menu.
Benefit:  You can adjust the menu items and pricing any time you decide it should be done.
Feature: Wall mount.
Benefit:  The machine takes up little space. The venue does not have to have a large piece of real estate which will give them little revenue. This is especially true in Casino locations. A gaming machine will generate a lot of revenue so the location want them on the floor. The machine on the wall allows for more machines on the floor. A huge benefit is its located at eye level and generally on a wall where customers are seated next to it or walk past it. Its never in the way so its easy to locate where it demands customer attention.
Feature: The machine operates on cellular connectivity. It DOES work when cell service is down.
Benefit:  You don't have to rely on poor Wi Fi connections or pay huge amounts of cash for the install and maintenance of an ethernet connection. It will work where ever your cell phone works.
Feature: "Unlimited" shopping cart functions.
Benefit: One time tap for multiple purchases, tapping for each item may deter the buyer from multiple purchases.
Feature: Name Capture.
Benefit:  Its important to know who uses your machine, what they buy, how they pay, what time of day do they make the purchase, how often they come to your kiosk.
Feature: Cashless vending.
Benefit: Almost all smart phone applications works on the machines. With the Corona Virus – no touch.
No money in the machine – no opportunity to steal your money generated from product sales.
Feature: QR Code.
Benefit: Customers will register with you and this function will  build customer engagement. Know your customer and their habits.
Feature: Legal Age.
Benefit:  You may want to sell age restricted products, tobacco, CBD oil, or any other age requirement product.
Feature: light weight.
Benefit: Check the cost of shipping when you change locations. This machine is portable and inexpensive to ship or move.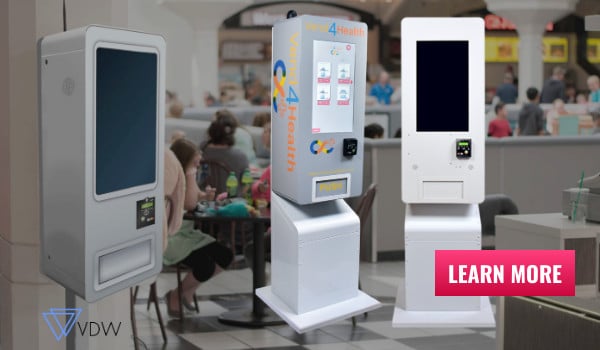 About Vending Design Works
Vending Design Works is a custom vending machine designer, manufacturer and distributor. Offering design and value added features as a service. We invite all sorts of ambitious visions and have shown a great track record for bringing ideas to the finish line.
Vending Design Works is a custom vending machine manufacturer, and a problem-solver above everything. We deliver machines as leading-edge as today's technology will allow.
When we can't use a vending machine that exists already to meet your needs, our design team can work to customize an existing vending machine or create a custom vending machine solution from scratch. That's how we're able to cover all industries, all applications.
For more information contact (204) 272-0310 | rischuk@vendinginfo.ca visit website at https://www.vendingdesignworks.com
---

 Vending Technology News | More News | Vending Newsletter sign up | Questions? Contact us | email press release
Also see: Software Companies | Technology Companies | Micro Markets | Cashless Vending | Distributors | Classified Ads | Routes for sale | Vending Companies USA | Home |
VENDING YELLOW PAGES DIRECTORIES:
Call us at 1-800-956-8363, POST YOUR COMPANY, GET NEW BUSINESS!